Oslo International Rumi Festival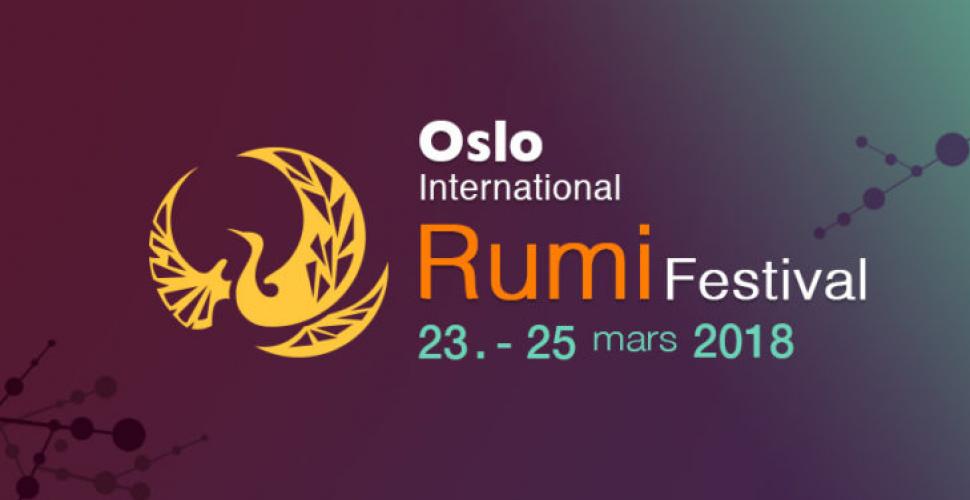 Oslo International Rumi Festival
Oslo International Rumi Festival
Få med dere kvalitetsmusikk gjennom hele dagen med blant annet Chirine El Ansary & Said Dibaj, DJ Mashti, Fuat Talay og Rumi Ensemble!
PROGRAM:
16:00 - Bokhammam
18:00 - "Fragments of Eternity"
with Chirine El Ansary & Said Dibaj
with Javid Afsari Rad, Sara Övinge, Emilie Heldal Lidsheim, Bendik Foss, Tove Margrethe Erikstad, Habib Meftah Boushehri og Adrian Fiskum Myhr
with Mads Nordheim (DJ Mashti), Fuat Talay, Cahit Ece
The tenth Rumi Festival focuses on "family" – as we celebrate the tenth anniversary of our festival we are using this year as a family reunion of sorts, expecting guests from previous years. We welcome all of you, old and new, as members of our Rumi Family.
In 2018 Oslo International Rumi Festival welcomes you to concerts, theatre performance, and poetic reflections. This year we celebrate with our family and warm ourselves in the heat of that family feeling.
We are thinking over our past and dreaming of our future. We are hosting a space that creates a cozy environment in the midst of a harsh winter. Here different cultures, traditions and art forms meet. Join us. We'd like to introduce you to our family. We'd like to welcome you into the fold.
16:00 - Bokhammam
18:00 - "Fragments of Eternity" with Chirine El Ansary
We are very pleased to welcome back Chirine El Ansary. You may remember Chirine from our very first edition of the Rumi Festival at Parkteatret in 2007 when she enchanted and inspired us with her storytelling. Or maybe you remember her from when she was back in Oslo with the multi-language Barn av Babel at the festival in 2013.
This year she will present: Fragments of Eternity. Chirine will be joined by Said Dibaj. Chirine and Said have worked together before at the opening ceremony of the festival in 2008. Said was also with us in 2011 with his band Mørkestan.
Fragments of Eternity:
Why is that man standing stark-naked in the middle of the traffic jam? Do Nile crocodiles eat fishermen? Do monkeys bring bad luck? What happens if you shave on an inauspicious day? Have you seen that strange bird hovering above the Eiffel Tour? Who is Ota? Have you met Samia? Is it possible to stop time?
For our anniversiry Chirine has handpicked stories with love. The stories closest to her heart, the ones that fashioned her being, stolen from her own repertoire, fragments of performances, bits and pieces of 25 years of hopping on and off the stage. Stories that have become an invisible family. An eclectic selection indeed, but always that one desires to caress those beloved Fragments of Eternity.
Chirine is known for her strong presence on stage. With humour, wit, poetry and precision, she has charmed the Norwegian audience before, and the Rumi Festival is very happy to have her back in Oslo with a new show.
Performers: Chirine El Ansary (storyteller), Said Dibaj (multi-instrumentalist)
20:00 - Rumi Ensemble
Rumi Ensemble is an ensemble after our own hearts. Rumi is the figure that ties them together. The symbol of Rumi is what ties our hearts to them. Rumi Ensemble, established in 2007, is led by Javid Afsari Rad, who besides composing and arranging the music, plays the Persian santur. The rhythmic aspect is a central element in Rumi's poems, and Javid incorporates this rhythmic energy and vitality into his music. We were lucky enough to have them participate in our festival in 2010 with Øst møter Nørd and again with I Rumis Fotspor in 2015. We are honoured to have them back this year to celebrate our anniversary with us.
Javid Afsari Rad (composer, santur), Sara Övinge (violin), Emilie Heldal Lidsheim (violin), Bendik Foss (viola), Tove Margrethe Erikstad (cello), Habib Meftah Boushehri (percussion), Adrian Fiskum Myhr (contrabass).
21:30 - Sufisticated
All the way back in 2009 Sufisticated helped us open the festival at Cosmopolite with a full set of "sufi-electronica" that made us both dance and shout. DJ Mashti was back in 2010 at Riksscenen as a part of Sufirani. What better way to celebrate than to have them back with us at Cosmoplite, going full circle and again helping to bring the party and bliss to the festival.
DJ Mashti has collected various samples from Iran, India, and Turkey. His sound has deep elements from Iranian, Indian, Kurdish, Turkish, and Sufic music traditions. Sufisticated will play an electronica set blended with live instruments. Come to this concert with your dancing shoes ready to go!
Performers: Mads Nordheim (DJ Mashti), Fuat Talay (saz, baglama), Cahit Ece (duduk, kaval)