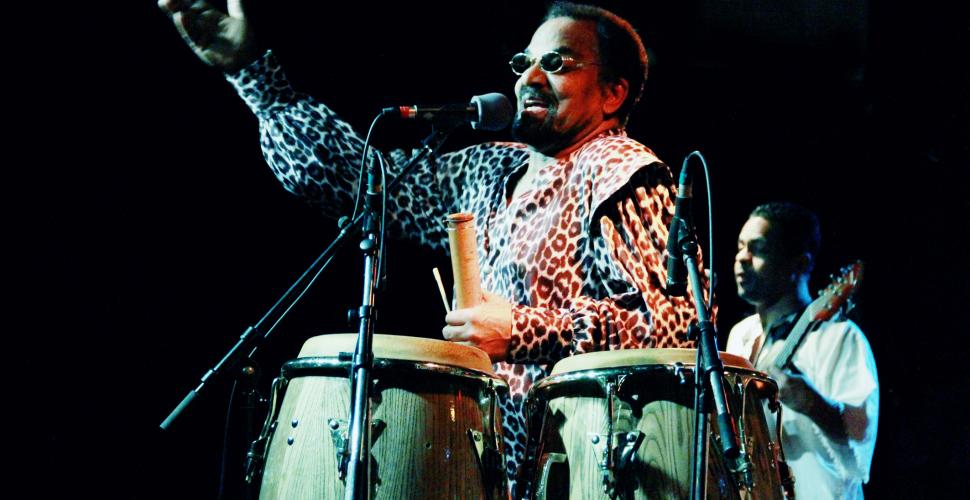 Saturday 4. November 2017
Ikon fra Angola beveger seg fra semba og fado til morna, og skal spille musikk fra sitt nye album "Recados de Fora".
Det blir gratis sembakurs med Theodore Wolashie Awadzi før DJ LaMissy varmer opp dansegulvet både før og etter konserten med Bonga!
PROGRAM
​19.15 - 20.00: Dansekurs
20.00 - 21.00: DJ LaMissy
21.00 - 2230: Bonga
22.30 - 23.15: DJ LaMissy
BONGA
Icon of Angolan music Bonga is on first-name terms with the stars and has given true meaning to the concept (albeit multifaceted) of 'Africanness'. From Luanda to Rotterdam, Paris to Lisbon, and everywhere else, Bonga belongs to that caste of African singers who have sublimated their roots. His rasping, powerful voice is immediately identifiable and anyone listening to his albums remains entranced from start to finish.
It was not until 2000 that he signed with Lusafrica and immediately released the irresistible "Mulemba Xangola", sung as a duet with Lura. The song dealt with disturbingly-topical, universal themes. In a way, with its ambience of national reconciliation, this record marked the end of the Angolan Civil War. Three more equally cosmopolitan and danceable albums formulating strong identity-related demands - "Kaxexe" in 2003, "Maiorais" in 2005 and "Bairro" in 2008 - added the final touch to the legend of a singer in perpetual motion.

Bonga is unstoppable on stage, and also when he talks about his country with stars in his eyes and a tremor in his warm, hoarse voice. Although he has been living in Lisbon and Paris for around thirty years, his personal history is terribly coherent. "I began my career as a protest singer. I criticised the Portuguese first, and then my own people. The people lost out in the end. Angola has incredible wealth. Today, the aim is happiness. I don't want to go into politics. I'm too genuine in what I say. I'm not the kind of person to hang around waiting for freedom to happen."
GRATIS DANSEKURS + DJ
Theodore Wolashie har mange års erfaring som danseinstruktør både i Kizomba og Semba, han grunnla danseskolen Dance City og har bidratt betydelig til å bygge opp et dansemiljø i Norge. Han tilbyr et introkurs i semba til alle som vil lære de grunnleggende stegene i den angolske pardansen. Ta gjerne med deg en venn å danse sammen med, hvis ikke så finner vi alltids en løsning!
DJ LaMissy har spilt for flere dansemiljøer i Oslo, samt festivaler og konserter. Hun har et bredt repertoar av zouk, kizomba og semba på lager - vi gleder oss til å danse!