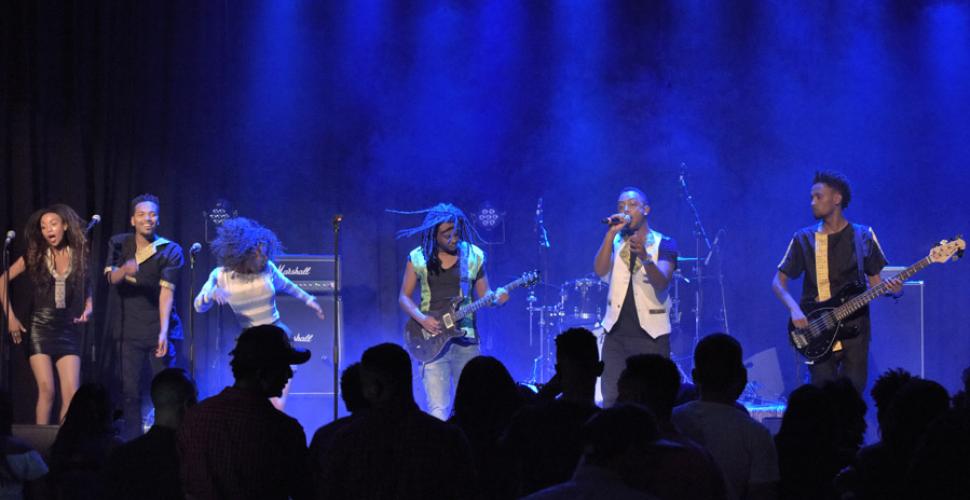 Et rockeband av unge, talentfulle og lidenskapelige etiopiere.
Setting the trend for the Jano sound is a new synthesis which injects Ethiopian music into the genre of rock to create hot and harmoniously wild sounding of Ethiopian rock. Behind it is Jano, a band consisting two female vocalists, two male lead vocalists and six musicians who play bass guitar, rhythm guitar, lead guitar, keyboards and a drum. The two things the players have in common is that all of them are in their twenties and all share a single dream – to become the first international rock phenomena from Ethiopia.
The man behind the making of Jano is Addis Gassesse, a renowned Ethiopian music manager who shuttles between Addis Abeba, New York and Kingston, Jamaica. Now Addis wants to get Jano play at international concerts and compete with any rock band on the world stage.
Jano has a unique way of showing the flare of its members, who, some of them came from different gospel choirs. The fusion of Ethiopian music with Rock is a complete detachment from the long tradition of music norm. But the songs are partly written by the band members themselves and partly by Yilma Gabreab, a popular Ethiopian song writer. The result is the first ever rock band in Ethiopia.
While some of the band members have been heavily influenced by rock stars such as the Rolling Stones and Metallica, others have been influenced by jazz, pop and reggae. This diverse background of the members can be clearly seen in the unique sound of their music that takes its nuances from an eclectic assortment of styles that, deep down, didn't abandon an Ethiopian flavor.
They are:
Kirubel Tesfaye, (Band Leader and synthesizer)
Michael Hailu, (Musical Director and Lead Guitar)
Dibekulu Tafesse (vocals)
Haleluya Tekletsadik (vocals)
Hewan Gebrewold (vocals)
Hailu Merga (vocals)
Yohannes Mekonen (drums)
Daniel Negash (bass)