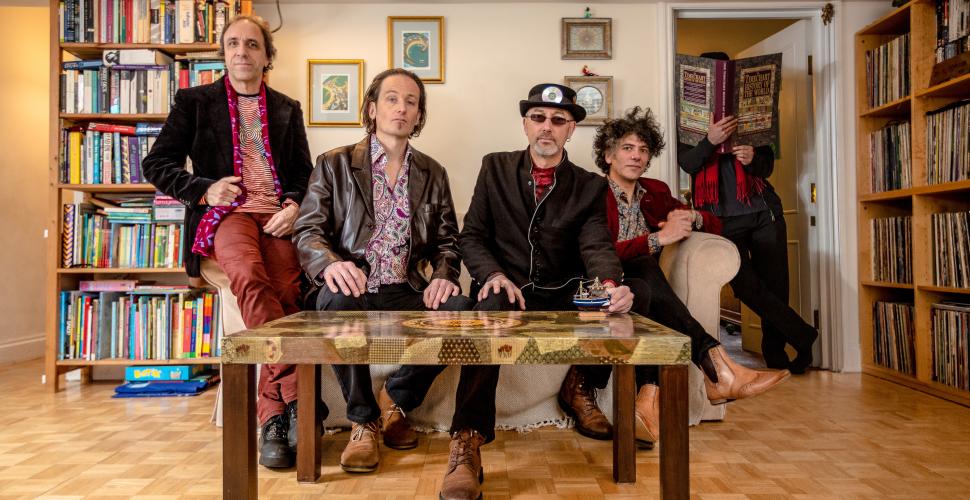 "Torabi's weaving vocal is like a spell (…) borne aloft on Dave Sturt's buoyant bass" – Louder Sound
The British cult band Gong is one of the most innovative rock bands, as they have renewed and regenerated creative forces for over fifty years. Gong has created several genres in their history as a band, and their musical universe includes genres such as space rock, jazz, experimental rock, avant-garde, krautrock and surreal soundscapes. 
The Universe Also Collapses (2019) is the bands last album, and according to Pop Matters "Another singular victory for psychedelic rock masters Gong". 
Gathering inspiration from quantum physics, psychedelic hallucinogens and meditations on time and space, the album presents the idea that everything that existed or shall ever exist, is created in one moment, also called the Big Bang. "Remember, there is only now" sings Torabi in one of the tracks.
The Universe Also Collapses is structured to convey the experience of the various stages of an LSD trip. As Pop Matters writes: "A celebration of the magic of science… bridging the worlds of lysergic exploration and quantum physics." 
Gong is a central part of the progressive Canterbury-scene in England. Daevid Allen is the bands founder, and as an archetypical free-spirited anarchist he insisted that Gong is an idea rather than a band. Perhaps that is why the current line-up of Gong is the longest stable line-up the band has ever had?
The present-day Gong has avoided becoming a legacy-band. They have created new and propulsive, forward-thinking open-mindedness in their music, and front vocalist Torabi thinks it's because they all have Gong in their DNA:
"Were not trying to ape what Gong did in the past. I think we've all been affected enough by Gong for it to be in our DNA and that were doing new music in that framework".
Join the young generation of hippies as they as they show off their mighty live prowess!
Line up:
Kavus Torabi – vocals and guitars
Dave Sturt - bass
Ian East - sax
Cheb Nettles - drums
Fabio Golfetti - guitar