Jaa/Takes Suppergroup feat. Bill Evans, Niels Lan Doky, Darryl Jones & Harvey Mason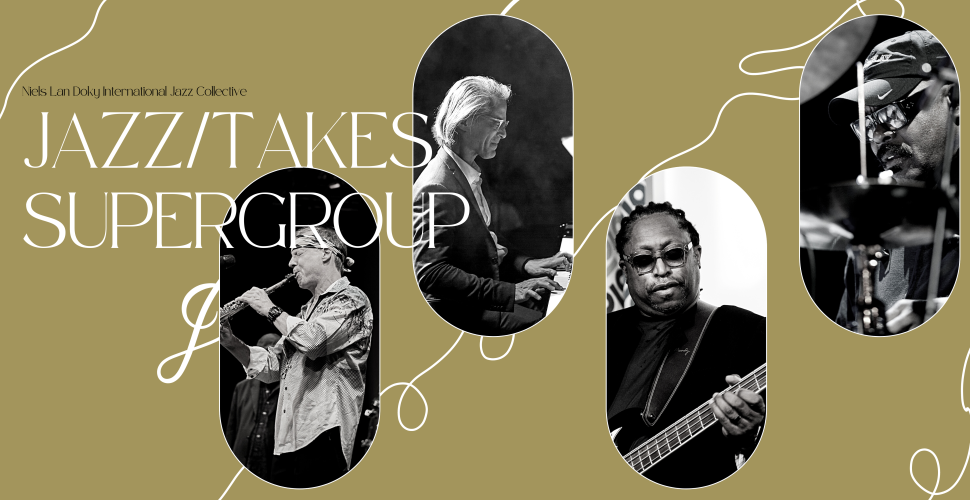 Jaa/Takes Suppergroup feat. Bill Evans, Niels Lan Doky, Darryl Jones & Harvey Mason
Jazz/Takes Supergroup is made up by four renowned musicians who embark on a musical journey based on one of Niels Lan Doky's international jazz collectives most successful concepts. Jazz/Takes Supergroup offer greatly invigorated new fresh types of jazz experiences with quantum leap increases in quality, substance, class, and dignity.
The ensemble refer to the African proverb "those who stand on the shoulders of their ancestors stand tallest" to show the respect they have for the jazz masters of the past and their legacy which they stand upon today.
Jazz/Takes seeks to revitalize jazz and increase its relevance by interpreting canons of modern music through a jazz lens. The Jazz/Takes Supergroup plays a mixture of their own original compositions and jazz interpretations of flagship songs from genres such as 90s Grunge (Pearl Jam, Soundgarden, Alice In Chains, Nirvana, Soundgarden), 70s Disco (Chic, Abba, Sister Sledge), French Electronic (David Guetta), Heavy Metal (Metallica), 90s Hip Hop (Nas, Notorious B.I.G., A Tribe Called Quest), 70s NY Post Punk (Television, Patti Smith, The Ramones), 80s UK New Wave (New Order) and more.
The ensemble is led by the pianist and producer Niels Lan Doky who has been named "The best pianist of his generation" and has been knighted by Queen Margrethe of Denmark.
The remaining part of the ensemble is a stellar constellation of some of the best jazz musicians of our time:
Saxophonist Bill Evans began his career at age 21 with Miles Davis which helped launch more than three decades of musical exploration leading his own bands. To date, he has recorded 26 solo CDs. Currently he is co-leading bands with multiple artists including Robben Ford, Mike Stern, and Randy Brecker and continues to tour extensively worldwide.
Originally from Chicago, bassist Darryl Jones rose to fame in the mid-1980s recording and touring worldwide with Miles Davis. In 1985, he became a member of Sting's first solo band with Branford Marsalis, Kenny Kirkland, and Omar Hakim. Jones joined the Rolling Stones after bassist Bill Wyman retired and has toured and recorded with the band since 1994.
Harvey Mason is one of the most recorded drummers of all time. His credentials reflect mind-boggling versatility (Björk, James Brown, Celine Dion, Duke Ellington, and Earth Wind & Fire are barely the tip of the iceberg). His most famous jazz work includes the groundbreaking Herbie Hancock album "Headhunters", he also co-wrote the hit song "Chameleon".
 
Line-up:
Niels Lan Doky – piano
Bill Evans – saxophone
Darryl Jones - bass
Harvey Mason - drums