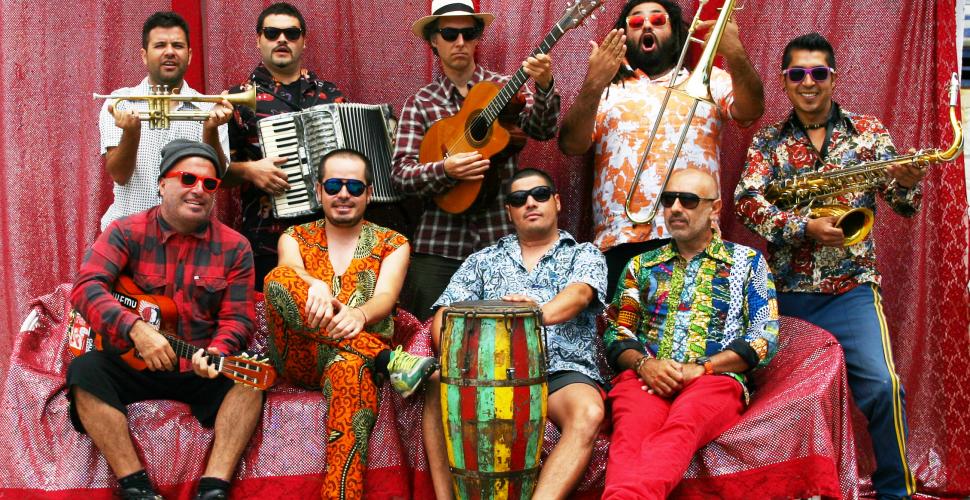 «Chico Trujillo are a world-class party band" – The New York Times
"There's sheer joy, too, in the exhilarating Chilean band Chico Trujillo" – The Guardian
Chico Trujillo celebrates 20 years as the leading band in Chile by giving out the album Mambo Mundial and heading out for a 20-month tour in Europe!
This is their third concert at Cosmopolite – and the audience is always exited to see them play!
The band serves cumbia, a musical and dance-style which saw the light of day as different cultures in Colombia and Panama came together; indigenous tribes, Spaniards and slaves from Africa.  The album Mambo Mundial is created with collaborators from Mexico, Colombia and Argentina, and it mixes folk music, hip-hop and boleros into the genre they are world-famous for reinventing: Cumbia!
The album lets the bands energy and creativeness boil over in the 11 tracks with fast and crazy cumbias, catchy instrumentals, dramatic ballads and even a hip-hop song.
The goal of the band is to bring to life the Chilean peoples love for dance parties. With their unrestricted and anarchistic approach to the dogmas of cumbia, they have by some reviewers been called "the punkers of this generation".
Aldo Asenjo aka "Macha" is the mythical leading vocal and leader of the band and has been named one of the most important musicians of his generation in Chile.
As forefathers of the new, international resurgence of cumbia, Chico Trujillo has mixed tradition with alternative culture and made these stiles come together under the Pan-American flag that cumbia is.
As the band The Gamas told the Los Angeles Times after seeing a concert by Chico Trujillo: "We got carried away by the music — we felt free. We said, 'Why don't we try it and let ourselves go?'"
Line-up:
Macha - vocal
Michael Magliocchetti - guitar
Juanito - drums
Tuto - bass
Tio Rodi - percussion
Zorrita - trumpet
Tabilo - trombone
Joselo - keys
TBA  - accordion