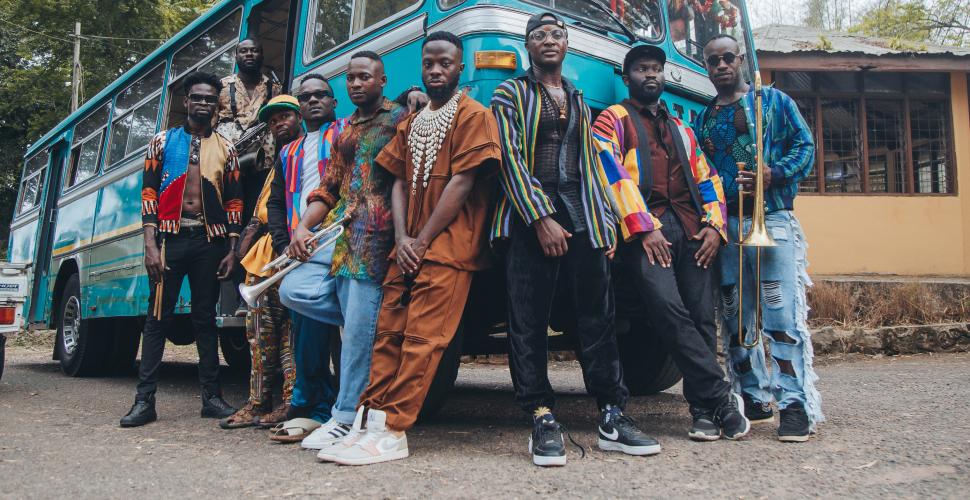 "A welcome return for Ghanaian highlife" was the newspaper The Guardians summation upon reviewing Alewa, the Ghanaian band Santrofi's debut album. 
Alewa was created as a new wave of fresh highlife rooted in the past with a knowledge of the future directly from the streets of Accra, according to the band.
The eight-man formation, armed with trombone, guitar, drum, tarna and keyboards, Santrofi makes everyone dance! The sultry cocktail consists of highlife, Caribbean styles, soukous and Nigerian afrobeat.
The Guardian calls highlife "afrobeat's cousin" and describes it as a lighter, breezier alternative to the intense and funk-fueled afrobeat. Highlife is a music genre that started in Ghana during its history as a colony and through its trade routes in coastal areas. It is a fusion of african metre and western jazz melodies with rhythmic structures of traditional akan music and kpanlogo music, played with western instruments.
Santrofis passion is to bring it back highlife not only to the world, but also to Ghana where the young generation has forgotten all about this great music.
"Highlife remains a rich and vital force" – THE QUIETUS
"Highlife has always been an optimistic music (which is exactly what we need right now) and this welcome debut is as refreshing as a cold Fanta on an Accra afternoon." – RYTHMPASSPORT
Line up:
Robert Koomson - vocals
Emmanuel Ofori Bass - bass & backing vocals
Bernard Gyamfi - trombone
Nobert Arthur - trumpet
Prince Larbi - drums
Dominic Quarchie - guitar
Emmanuel Kuntu - percussion
Emmanuel Agyeman - keys and backing vocals
SUPPORT: 
(On stage from 20:30)

King George VIII and the King George Band is a four-man band starring King George VIII (George Ofori ) as frontman, Louis Waltisberger (bass, co-prod), Clément Moliné (trumpet) and Anita Antal (vocal and flute). The band delivers rhythms to kickstart your dancing feet, in a mix of 70's highlife and afro pop in a modern, electronic style.