COSMOPOLITE 30TH ANNIVERSARY: Alune Wade Band feat. Mamani Keita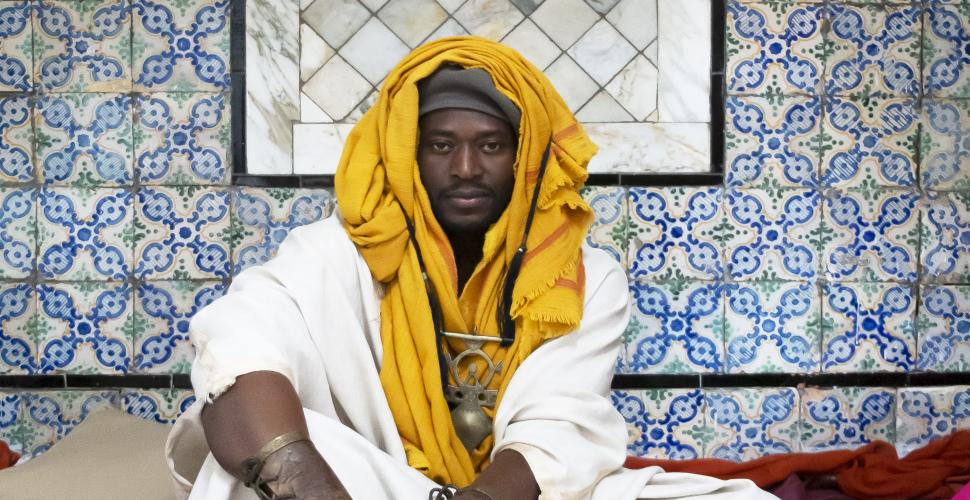 COSMOPOLITE 30TH ANNIVERSARY:
Alune Wade Band feat. Mamani Keita
Alune Wade is a royal tree: His gracious self-confidence, calm authority and intense force manifests, when the Senegalese bassist and singer takes us aboard his jazzvoyage.
His newest album SULTAN, his fifth album, bridges Africa and the Middle East. 'Sultan' is an Arabic word with both feminine and masculine values, and is used in Turkish, Bengali, Avar and Urdu. The album represents multiculturalism with its unique rhythms and sounds from jazz, afrobeat and Berber musical tradition.   
Wades sound image has a refined and sophisticated urban finish, which he collects from travels to dynamic cosmopolis Paris and New York, and its diaspora scene. A true representative of Cosmopolitan music makes Wade an ideal performer for Cosmopolites 30th jubilee.

The African diaspora and the many pockets of African culture around the globe, is one of Wades topics of interest. Reading about Falasha, the Ethiopian Jews that emigrated to Israel, made Wade even more aware of the unbreakable bond between Africa and the Middle East. Wade is studying Africa's history using original sources, searching for the truth about the continent.
Tracks from the SULTAN album takes us from Djerba to Istanbul, from Dakar to Bangladesh and from Kairouan to the kingdom of Saba through the Arabic-Andalusian and Berberrythms to western scales and eastern maqâms.

Considering its Wades very first performance in Norway, it is quite a remarkable coincidence that his colleague Marcus Miller is playing the following day, on the same scene. Miller is awarded "player emeritus" status as bassplayer and has many Grammys on his shelf. Miller invited Wade to play on his next album 'Afrodeezia' from 2015 – a collaboration between two of our times greatest bassists!

GUEST ARTIST: Mamani Keita is a singer and musician from Mali to be joining Alune Wade on stage! Keita has "the voice of a strong female" and was one of the wonderful backing singers of superstar (and name brother) Salif Keita. Her previous performance in Norway was at Oslo World, and her name Mamani means "grandmother" – an appropriate name for a well established musician.
Line-up:
Alune Wade – Bass and vocal
Mamani Keita - Vocal
Carlos Sarduy – Trumpet
Hugues Mayot – Saxophone 
Cédric Duchemann – Keys
Tony Texier – Piano & Fender Rodhes
Yoann Julliard – Drums