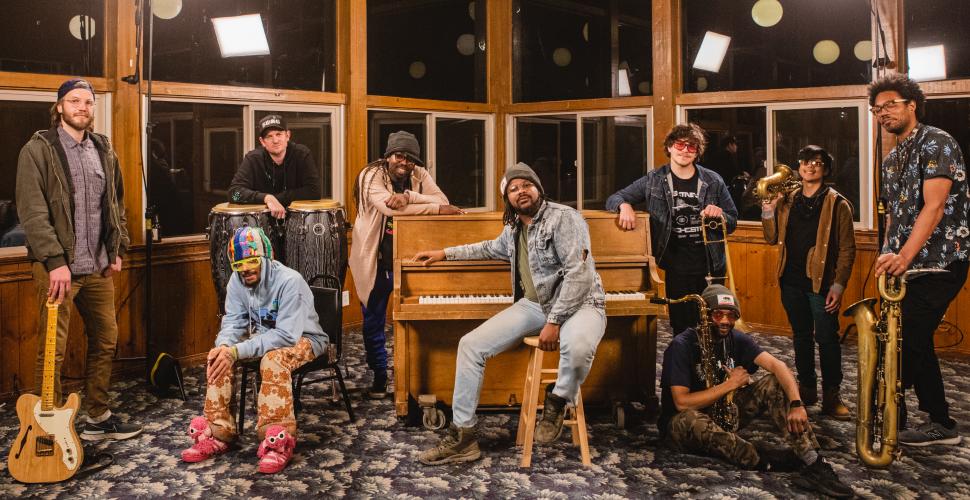 Line-up:
Robert "Sput" Searight (Snarky Puppy, Herbie Hancock, Kendrick Lamar) – trommer, keys
Dywane "MonoNeon" Thomas (Prince) – bass, gitar
Peter Knudsen – gitar
Jonathan Mones (Funky Knuckles, RC & The Gritz) – altsax, fløyte
Danny Wytabis - Trombone
Devin Way – trommer
Headed by Snarky Puppy's multi-GRAMMY-winning percussion duo of Robert "Sput" Searight and Nate Werth, Ghost-Note is an explosion of sound, with an expansive roster of next-level musicians – representing members of Prince, Snoop Dogg, Erykah Badu, Herbie Hancock, Hendrick Lamar, Marcus Miller, Toto, Justin Timberlake and more. The band is pushing funk music info the future, building on the uplifting, pioneering foundations laid out by the likes of James Brown and Sly & The Family Stone and infusing their fresh take with tastes of afrobeat, hip-hop, psychedelia, world folklore and more.
With the release of 2018's SWAGISM, Ghost-Note has made their mission clear. The album puts rhythm at the forefront, with irresistible, heavy-hitting beats underlying the group's wild, rich music. Featuring numerous guest collaborators, including Kamasi Washington, Karl Deson, Bobby Sparks, Nigel Hall, TAZ, and others, SWAGISM showcases the band's stunning ability to meld and amplify sounds, ultimately adding to Ghost-Note's sharp, complex collaborations.
We are very happy once again invite Ghost-Note back to Cosmopolite, and are looking forward to sharing this evening with all of you!