The Land In-Between - Shannon Mowday's LILA og Oslo & Akershus Ungdomsjazzorkester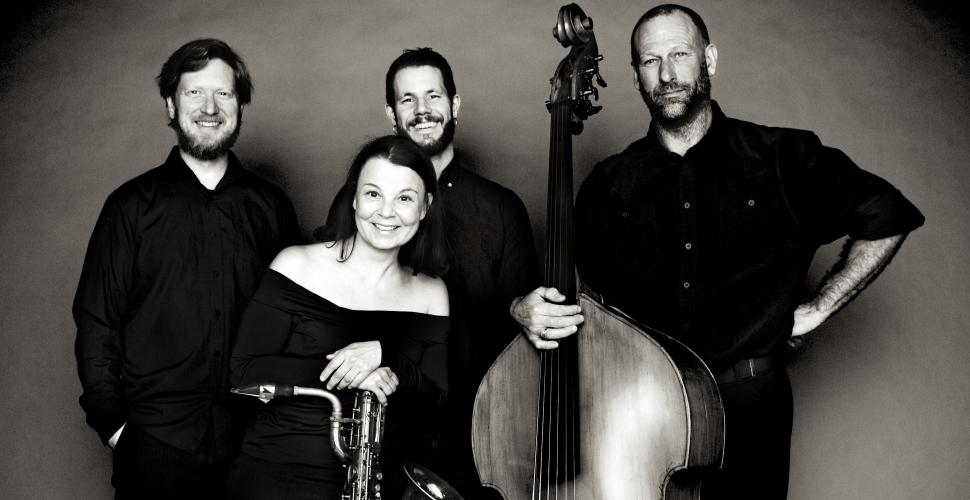 Mowday Music | Østnorsk Jazz Senter
Saturday 29. January 2022
The Land In-Between - Shannon Mowday's LILA og Oslo & Akershus Ungdomsjazzorkester
Shannon Mowdays LILA and Akershus og Oslo Ungdomsjazzorkester (AOJO).
LILA (Divine play)
Line-up:
Shannon Mowday - Alto and baritone saxophones, contra alto clarinet, composition
Helge Lien - piano
Johannes Eick - 6 string acoustic bass
Erik Nylander - drums
Louise Lavoll - sound design
Energy, rhythm, strong melodies, sensitivity and improvisation are the element's at "play" which unite Norwegian-based Shannon Mowday and her South African roots, with some of Scandinavia's finest creative and improvising artists. LILA had it's debut performance on Oslo Jazz Festival 2019, followed by performances in Norway and South Africa featuring at the Joy of Jazz Festival in Johannesburg, amongst other performances. LILA released it's debut cd "The Land In-Between" on Bugge Wesseltoft's OK World Label, October 2020. Mowday's music has strong elements from her culture, travels, life stories and presents issues for social discourse. LILA seeks to find common ground in expression but also explore differences beyond borders of musical genres or expectations of style in "The Land In-Between".  Akershus og Oslo Ungdomsjazzorkester  (AOJO) was formed in 2014 by Østnorsk Jazz Senter, where Shannon has been musical leader since 2016. They have performed at concerts and festivals throughout Norway such as Moldejazz, Oslo Jazz Festival, Nattjazz, Asker jazzklubb, Sjoggfest on Ungdoms-OL, Jazzkafé i Ski, Ungjazz on Kullebunden, Jazz in Kolben cultural house, as well as festivals in Germany and South Africa (Makanda). They released a cd "Oasis of Bad Vibes" in 2019, and a documentary was made about the band "Om å spille sammen som seg selv". AOJO comes with an exciting new line up of young musicians where they will present music by Mowday, Geir Lysne, Hilmar Jensson and Helge Sunde.
"The creative mind plays with the object it loves" - Carl Jung
"The Land In-between"
"'I was born on African soil with my feet firmly planted in it's earth, but part of my roots are from elsewhere. I took on a new habitat in Norway and planted my own seeds. In both lands, I am a foreigner. I am woman expressing myself in a musical genre where the "landscaping" (blueprint) was essentially architected (designed) by men and their expression. Here too, I am a foreigner. In LILA we seek to find common ground in expression but also explore our differences beyond borders of musical genres or expectations of style and essentially create a "play"ground in "The Land In-between"". - Shannon
The cd is dedicated to the memory of Courtney Pieters and all victims of gender based violence.
Mini Bio:
Standard Bank Young Artist Award Winner  for Jazz (2007), Shannon Mowday has performed extensively throughout Africa, Asia, Europe and America with leading artists such as Maria Schneider, Sibongile Khumalo, Danilo Perez, Nils Landgren, Oliver Mtukudzi, Jonathan Butler, Dizu Plaatjies, Concord Nkabinde, Arild Andersen, Andreas Shaerer, Erlend Skomsvoll, Jeroen van Vliet, Geir Lysne and Bugge Wesseltoft, to name a few. She has led and recorded her own projects such as Galumphing, African Eyes (Oz), MØTE, Chi (Qi) and performed as soloist with all the major symphony orchestras in South Africa with her music. She composes for and directs large ensembles and has performed with leading projects such as Ensemble Denada, Elin Rosseland Quintet, NDR Bigband, Trondheim Jazz Orchestra, BURN! and Baltica 'All Stars' Bigband. She also currently leads a highly successful youth group, AOJO (Akershus og Oslo Ungdomsjazzorkester) and received the Norwegian Jazz forum's Bigband prize for 2018. Her playing is a combination of enormous power and high energy juxtaposed with extreme sensitivity and together with exciting and inventive use of the lower woodwinds, she has stood out as extremely original and unconventional in her work. Her compositions are unique and reflect her travels, her South African roots and extensive musical experience; drawing from nature, folklore, life experience and also presenting important issues for social discourse.

Mowday has united musicians with whom she has worked since moving to Norway in 2009, each with a very unique musical identity.
Internationally acclaimed Helge Lien, known for his many albums and performances with Helge Lien Trio, collaborations with Adam Baldych, Arild Andersen, Live Maria Roggen as well as many leading artists, is one of the most exciting young voices of Scandinavian music.His distinctive sound together with virtuosic playing and responsive playing has proved himself to be an excellent 'composer of the moment' in all that he does.
Johannes Eick's unique expression and sound playing 6 string upright bass is unparalleled and as well as having worked with many defining musicians, he  himself has  been  an essential part of the essence of sound of the Norwegian improvised music scene. He has worked with artists such as Elin Rosseland, Trygve Seim, Jon Christensen, Morten Qvenhild and Christian Wallumrød.
Erik Nylander boasts an incredible discography with some of Scandinavias finest musicians such as Ola Kvernberg, Tore Brunborg, Bjørn Alterhaug Quintet, Tronheim jazz orchestra, Erik Nylander's Orkester. A exceptionally responsive and creative musician who has also worked in African projects such as Monoswezi and MØTE (with Mowday and Dizu Plaatjies).

This concert is supported by Østnorsk Jazz senter and Mowday Music.