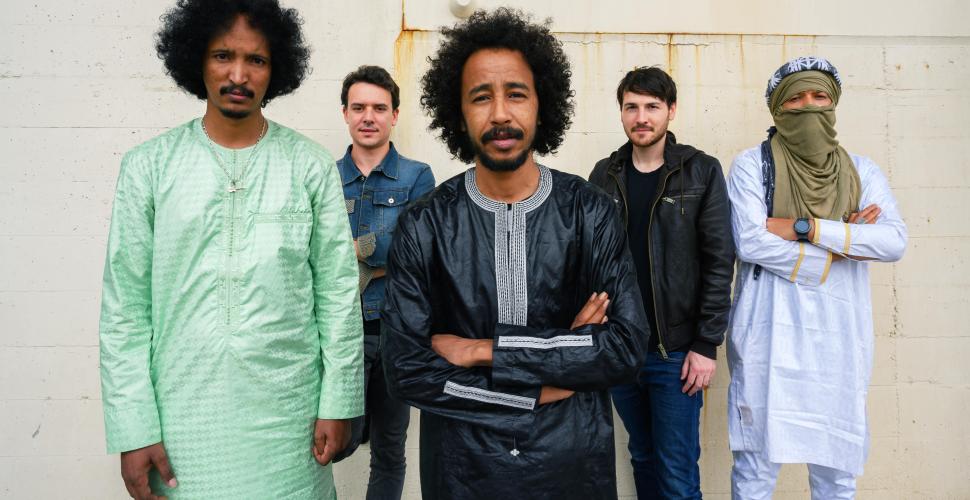 Tamikrest delivers blues from the Sahara with electric bombast!
"Hypnotic nomad rock, best at its most subtle." – Timeout London
Tamikrest is a band living in exile. For most of the last ten years, they have been unable to live in their Kidal, Mali homes because of regional conflicts. Tamikrest can be translated to both "alliance" and "the future" – it speaks to the needs and causes specific og the Tamasheq people. They are a nomad people fighting for independence and rights to their own land.
Their music is characterized by electric guitars and vocals, youyous, bass, drums, djembé and other percussion instruments.
"It isn't easy following in the steps of Tinariwen, but Tamikrest are the brightest young contenders among the new Tamashek-speaking desert blues bands mixing traditional styles with elements of indie rock …" – The Guardian
With their latest album, Tamotaït, from 2020, Tamikrest is proclaiming their longing of the desert, over smouldering soundscapes, the Financial Times writes in their review.
Tamotaït is rebellious, and in many ways a battle cry, the word meaning "a hope for positive change".
"Rather than being defined in by African music, or protest music, Tamikrest is a band that expands those vocabularies. Tamotaït not only enlarges the world we know, it also pushes us closer, illustrating a path to what music can become." - FOLK RADIO   
Line-up:
Ousmane Ag Mossa - vocal, guitar  
Cheikh Ag Tiglia - vocal, bass
Nicolas Grupp - drums
Paul Salvagnac - guitar
Aghaly Ag Mohamedine - perc