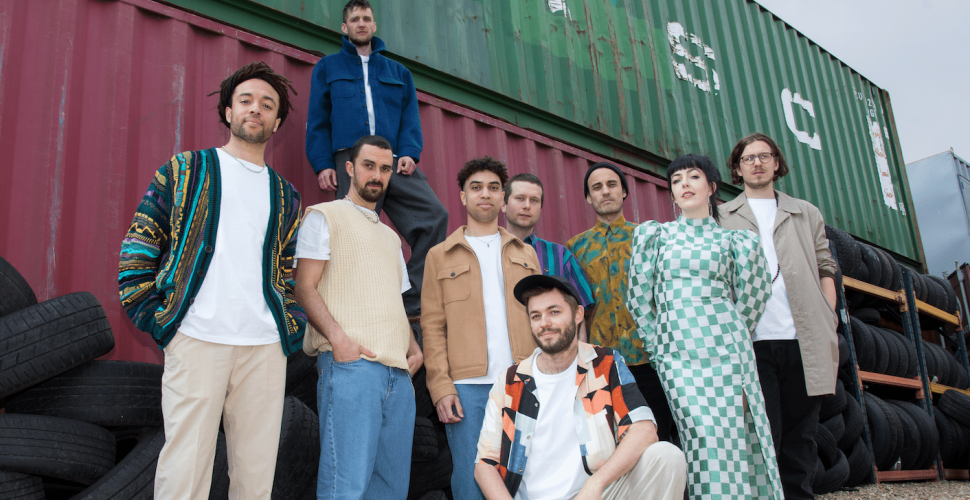 Thursday 20. October 2022
"Music is the ultimate narrative for unity" explains Tom Excell, the multi-instrumentalist and producer who leads the band Nubiyan Twist.

The band consists of ten musicians, who draws from jazz, hip-hop, afrobeat, latin, soul, reggae and dance music to create their kaleidoscopic and innovative musical expression.

"Versatility with deep soul...an elegant yet earthy hybrid of jazz, UK soul and highlife" – Uncut.

Their newest album, Freedom Fables, is the most accomplished yet, effortlessly fusing different soul, jazz and global styles with great musicianship and lyrics. 

"Freedom Fables reflects on the power of narratives. Each vocalist on this record explores their own memoirs, a freedom of expression underpinning our belief that music is the ultimate narrative for unity," explains Tom Excell about the album.

The lyrics for Freedom Fables are a lot about social issues, and the loungey African acid-jazz track «Ma Wonka» was written with just enough spaciousness for Ghanaian vocalist and songwriter Pat Thomas to rant about the ruinous effects of gossip. Saxophonist Nick Richards jumps over to vocals on the deeply grooving "Buckle Up" and sings of breaking psychic chains, as a lyricist too, Richards—a child therapist in training—impresses as he portrays diverse aspects of empathy, helping others to find their way through positive mental health exercises.
Jazz critics are lining up to play tribute to the album:

"Nubiyan Twist take a leap out of the densely packed crowd of UK jazz with Freedom Fables, a summation of the group's talent that sees them elevated into the highest tier of their cohort" - Loud and Quiet

"The type of record that should be blasted over a sun-drenched festival crowd." – Clash

Nubiyan Twist sold out their entire 2019 UK tour including EartH in London and Trinity in Bristol, and have rocked festival stages from Glastonbury to Wilderness and Love Supreme to Edinburgh Jazz Festival. In Europe they've toured twice and played at Supersonic Jazz Festival in Holland, Soundwave in Croatia as well as supporting legends such as Tony Allen and Ebo Taylor.
"Energy, rhythm, youthfulness, madness, precision and multiple influences." - Rolling Stone
"Vibrant and vivacious" - BBC Music

Line-up:
Finn Booth - Drums
Luke Wynter - Bass
Tom Excell - Guitar
Pilo Adami - Percussion
Oli Cadman - Keys
 Jonny Enser - Trumpet
Nick Richards - Alto Sax
Denis Scully - Tenor Sax
Joe Henwood - Baritone Sax
Cherise Adams-Burnett
Ria Moran - Vocal