COSMOPOLITE 30TH ANNIVERSARY: Kristin Asbjørnsen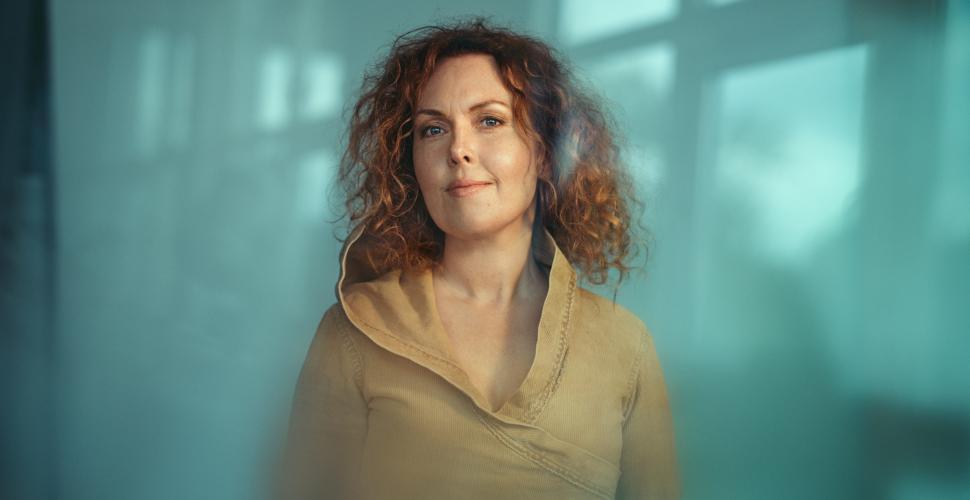 Wednesday 16. November 2022
COSMOPOLITE 30TH ANNIVERSARY: Kristin Asbjørnsen
Kristin Asbjørnsen will contribute to Cosmopolites 30 year anniversary with a concert commissioned by the venue's founder Miloud Guiderk. The songs and orchestrations are inspired by Afro-American spirituals and West African musical traditions.

The Norwegian press were unisonous in their accolades of Asbjørnsens latest album titled "Traces of You". Oslo's main newspaper, Aftenposten, wrote: "This might be Kristin Asbjørnsen at her best. A tender, warm and moving seremony, where loss, various imprints of life and the everchanging love is sung with including warmth".

Kristin Asbjørnsen (born 1971) is a singer-songwriter with 25 years of experience as an international artist. While studying music and particularly jazz for six years at a conservatory, being a protégé of singer Ruth Reese was also a crucial part of Asbjørnsens education. Reese was one of the first black artists in Norway, bringing Negro spirituals and gospel to the country. Asbjørnsen inherited Reeses archive; notes for Negro spirituals and historical recordings, which she continues to develop and apply while creating music.

Asbjørnsens artistic work builds dialogue between traditional material and new compositions. Dagbladet newspaper writes "A fabulous mix of Norwegian and African" about her newest album where she cooperates with the Senegalese koraplayer Ablaye Cissoko. With a great gift of making melodies and poetic lyricism where voices, guitars, west African kora and ngoni are intwined in a beautiful and meditative landscape of sound.

In this show Asbjørnsen will perform some new songs in Norwegian, in a dialogue with her "Traces of You"-repertoire and rich adaptations of Afro-American spirituals from her inheritance from Ruth Reese.

Lets end this text with the newspaper Klassekampens homage of "Traces of You":

"Traces of the world… It is right there, in these little moments, that the world is a little bit easier to make sense of."
 
Line-up:
Kristin Asbjørnsen – vocal
Suntou Susso – kora and vocal
Olav Torget – guitar and vocal
Eivind Aarset – guitar
Anders Engen – percussion, piano, vocal
-
Asle Karstad – sound design
Eivind Hermann – light design 
The musicians this evening:
Sunto Susso is from a well-known Griotfamily in Gambia, his father is a koraplayer and his mother is a singer. Griot is a tradition one is born into, and central to the tradition is continuing and evolving the storytelling in poems, music and song. Susso is a part of Asbjørnsens latest album "Traces of You" where lyrical ornaments with an African sound is in a playful dialogue with the sonic guitar. In 2020 Asbjørnsen and Susso could not perform together because of the pandemic, but now the audience has the chance to experience the musicians live!
Olav Torget is an eminent guitarist and has created his own sound through studying south- and west African musical traditions for many years. His solo-album "Suburban Jive" from 2007 received praising critique and the triorelease with the album Áššu (with Ulla Pirttijärvi/Harald Skullerud) received the German Musicalcritics Musicprice of 2019.
Eivind Aarsets guitar play in his album "Électronique Noire" made The New York Times write "one of the best post-Miles electrical jazzalbums". Eivind also won the Buddyaward – and has received acclaim for his latest album «Phantasmagoria, or A different kind of journey».

Anders Engen has with his characteristic musicality and subtle style of performing cooperated with Kristin Asbjørnsen for several years, both as a producer for her two spiritual-albums and as a guest musician in several of her ensembles. Engen is a player of several instruments. He is also a permanent member of Bjørn Eidsvågs band, and plays concerts with artists like Knut Reiersud, Bugge Wesseltoft, Vidar Busk, Anne Grete Preus, Bernhoft, Silje Nergaard and the Bremnes siblings. Anders trio Spirit in The Dark (consisting of Engen and David Wallumrød/Audun Erlien) released the acclaimed album Now Is The Time.