COSMOPOLITE 30TH ANNIVERSARY: Kristin Asbjørnsen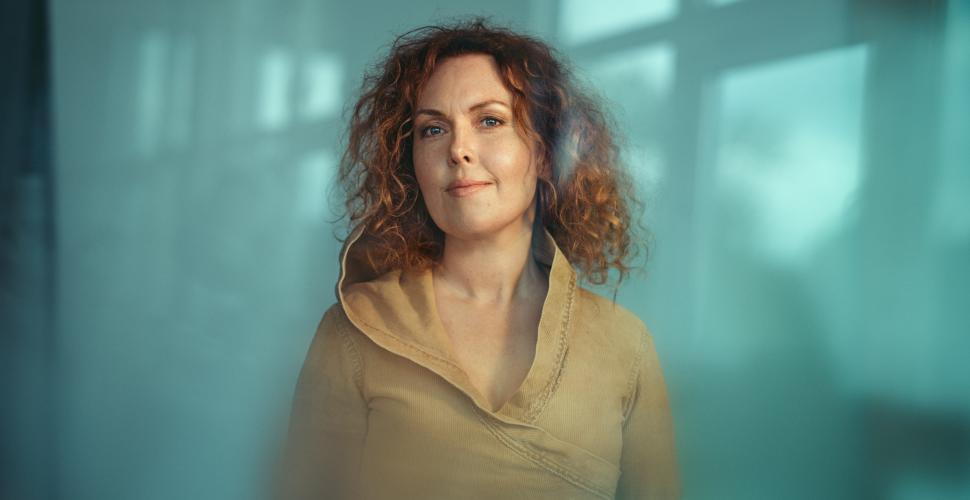 Wednesday 16. November 2022
COSMOPOLITE 30TH ANNIVERSARY: Kristin Asbjørnsen
Kristin Asbjørnsen will participate in Cosmopolite's 30th anniversary with a concert commissioned by the venue's founder, Miloud Guiderk.
Kristin will perform brand new songs in Norwegian, as well as songs from her "Traces of You" repertoire and rich adaptations of African American spirituals.
This concert is based on her rich artistry as an improvisational musician, with traces of West African music, African American spirituals, lullabies and Nordic contemporary jazz.
The European press were unanimous in their praise of Asbjørnsen's latest album, entitled "Traces of You". Oslo's leading newspaper Aftenposten wrote:
"It's possible that Kristin Asbjørnsen has never been better. A tender, beautiful and stirring celebration in which loss, various life impressions and changing love are sung with an embracing warmth."
Asbjørnsen's artistic work continually creates new dialogues between traditional material and new compositions. Dagbladet newspaper writes: "A fabulous mix of Norwegian and African" about her latest album, where she cooperates with the Gambian kora player Suntou Susso. Based on Kristin's assured melodic flair and poetic lyrics, the instruments are woven together in a meditative, groovy and warm vibration, carried forward by the strong awareness of Kristin's approach to the songs.
Singer and songwriter Kristin Asbjørnsen is one of the most distinguished artists on the vibrant extended music scene in Europe. Over the last decades, she has received overwhelming international accolades from critics and the public alike for her unique musical expression.
In 1990, Kristin inherited a number of sheets of old African American spirituals from the great African American singer Ruth Reese. Kristin's personal and soulful interpretations of this material resulted in "Wayfaring Stranger – a spiritual songbook" in 2006, and "I'll Meet You in The Morning" in 2013. The award winning "The Night Shines Like the Day" from 2009, and her two solo albums, "Wayfaring Stranger – A Spiritual Songbook", which went platinum, as well as Factotum (Kristin's film music collaboration with Bent Hamer, based on Charles Bukowski), secured her standing as a singer and songwriter, internationally.
For 30 years, Kristin has performed in concert with pianist Tord Gustavsen, and she has collaborated with South African Ladysmith Black Mambazo, the Malian singer Rokia Traore and pianist Ketil Bjørnstad. Over many years, Kristin focused mainly on work with her permanent musical ensembles Kvitretten, DADAFON and KRØYT, where her own compositions played a central role.
Kristin has won Spellemannspris (the Norwegian Grammy Award), the Alarm Prize, Edvard Prize, Kanon Prize, Thorbjørn Egner Kardemomme Scholarship and the French Mondomix-Babel Med Award for her music. Kristin received her formal musical education from the Jazz Department at the Trondheim Music Conservatory, Norway.
Kristin is well known for her great live performances, and she will perform at Cosmopolite with an extraordinary ensemble, including guitarists Olav Torget and Eivind Aarset, the eminent Anders Engen on perk and piano, superb backing vocals by Monica Ifejilika, as well as Gambian kora player and vocalist Suntou Susso.

We'll leave you with the newspaper Klassekampen's homage to "Traces of You":
"Traces of the world. It is right here, in these small moments, that the world becomes a little easier to understand."
             
Line-up:
Kristin Asbjørnsen – vocals
Suntou Susso – kora and vocals
Olav Torget – guitar and vocals
Eivind Aarset – guitar
Anders Engen – percussion, piano and vocals (tba)
Monica Ifejilika - vocals
--
Lars Voldsdal – sound design
Eivind Hermann – light design


About the musicians:
Sunto Susso is from a well-known Griot family in Gambia; his father is a kora player and his mother is a singer. One is born into the Griot tradition, in which continuing and evolving storytelling in poems, music and song are central. 
Suntou combines his rich Mandinka tradition with new musical impulses. He has a strong, lyrical and groovy power, and is a popular kora player and singer in England. He contributed to the Swedish film Medan Vi Lever, and he plays with Seckou Keita and in the Ghazalaw Ensemble. Suntou is now releasing his first solo album, "Kanefonyo", supported by the British Art Council. He is a part of Asbjørnsen's album "Traces of You", where lyrical African ornaments unite in a playful dialogue with the sonorous guitar universe. Kristin and Suntou have not performed together since 2020 because of the pandemic, but once again audiences can experience them live!
Olav Torget's distinctive expression and unique playing style have been cultivated through decades of specializing in Southern and West African music traditions. Olav performs frequently as a guitarist in various pop, jazz and world music contexts (Karl Seglem, Diom de Kossa, Geir Lysne Ensemble, Becaye Aw). He published his own acclaimed solo album, "Suburban Jive" in 2007, and his trio's album "Áššu" (with Ulla Pirttijärvi/Harald Skullerud) received the German Musical Critics Music Prize in 2019. Olav has produced a number of albums for various artists, and has just released "Tíle" with the Øyonn Groven Myhren and Sidike Camera. Olav has been a key member of Kristin Asbjørnsen's ensembles for 15 years.
Eivind Aarset's guitar play in his album "Électronique Noire" was praised in The New York Times as "one of the best post-Miles electrical jazz albums". Eivind also won the Buddy Award, and has received acclaim for his latest album "Phantasmagoria, or A different kind of journey".
He began his career with heavy rock with Miles, Weather Report and the ECM Sound drew him in new directions. He reinvented jazz with Nils Petter Molværes "Khmer" and Bugge Wesseltoft, he tours actively with his own band and has collaborated with musicians such as Jon Hassel, David Sylvian, Bill Laswell, Jan Garbarek, Paolo Fresu, Arild Andersen, Dhafer Youssef and Django Bates. 

Anders Engen has contributed his characteristic musicality and subtle style of performing in collaboration with Kristin Asbjørnsen for several years, both as a producer for her two spiritual albums and as a guest musician in several of her ensembles. Engen is an accomplished musician who plays several instruments. He is the key member of Bjørn Eidsvåg's band, and plays concerts with artists such as Knut Reiersud, Bugge Wesseltoft, Vidar Busk, Bernhoft, Silje Nergaard and the Bremnes siblings. Anders' trio, Spirit in The Dark (with David Wallumrød and Audun Erlien), has released the acclaimed albums "Now Is The Time" and "Superbells".
With her strong soul signature, Monica Ifejilika is Kristin's main backing singer on the latest album releases. The Norwegian-Nigerian singer and songwriter is best known as part of Queendom. The Black Arts collective has made its mark on Norwegian art and culture for two decades with an Afropean musicality and a distinct political voice on both albums and onstage. Their play «Farvann» premiered spring of 2022. Her solodebut, «Keep it solid» was released in 2014, and collaborating with Sidiki Camara, she sang and composed the music to the dance productions «That Voudou that we do» (2020) and «Jazz Ain't Nothin' but Soul» (2021) for Tabanka Dance Ensemble.