COSMOPOLITE 30TH ANNIVERSARY: Jon Balke: Siwan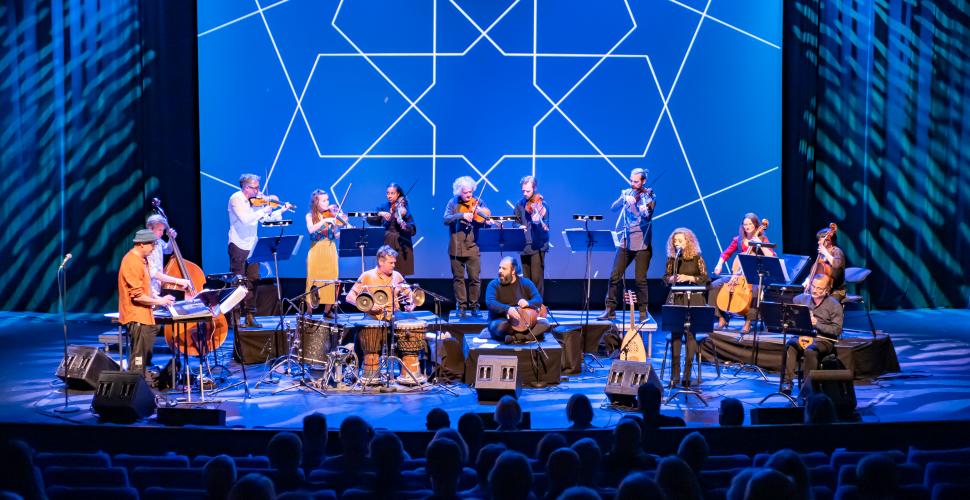 Thursday 17. November 2022
COSMOPOLITE 30TH ANNIVERSARY:
Jon Balke: Siwan
The jazz ensemble Siwan saw the light of day on the occasion of Cosmopolite celebrating 15 years as a venue for world and jazz music. The collectives first arrangement had its world premiere at Cosmopolite and was a commission piece from the founder of the venue, Miloud Guiderk. Siwan was seeking inspiration from Guiderk's country of birth, Morocco, and the founder's childhood memories of a cacophony of musical sounds melting together.
Composer Jon Balke found a great inspiration in Gharnati, a musical tradition from Al Andalus. Gharnati has traveled from Andalusia, through Algeria and to Morocco with Algerian families who settled there.

Balke combined three improvisational traditions in his composite: Gharnati, Italian baroque music and modern jazz improvisation. Siwan means trinity or triangle, in the extinct language Aljamiado.

15 year later Siwan is established as an outstanding and internationally acclaimed ensemble. Their newly released album, Hafla, has its Oslo-premiere fittingly at Cosmopolite, 15 years after the world premiere in 2007. Hafla has reaped great praise in the European press:
Le Monde Diplomatique writes:
"A beautiful and permeating melancholic album."
Jazzworld:
"Balke's music vision is concise and transfers beautifully to this tapestry of colors and emotions."
The lyrics for Hafla is gathered from the poetic tradition in Moorish Spain. Hafla is centered around poems written by the free-spirited princess from the Umayyad dynasty and her lover Ibn Zaydun, one of the greatest poets in Al Andalus. The princess was criticized by the imams but endorsed and admired by her poetic soulmates. The lovebirds met each other at a poetry contest, but their relationship had to be a secret, and ended as a tragedy.
Since the bands initiation in 2007, the musicians have changed several times. Today Siwan consists of 13 liberated souls that play everything from the string instrument kemençe, baroqueviolin and the persian drum tombak. The singer Mouna Boutchebak from Algerie is a main pillar of the band's music, and is described as "belonging to another world" by the reviewer Tor Hammerø, who cannot praise Hafla enough:
"Jon Balke is one of the greatest composers and idea-makers in modern music. He has created a masterpiece with Siwan."
Line-up:
Mouna Boutchebak- vocal
Jon Balke, composer - tangentar
Bjarte Eike - baroque violin
Derya Turkan - violin
Pedram Khavar Zamini - tombak, zarb
Helge Norbakken - percussion
Barokksolistene - string orchestra