30TH ANNIVERSARY: The Turbans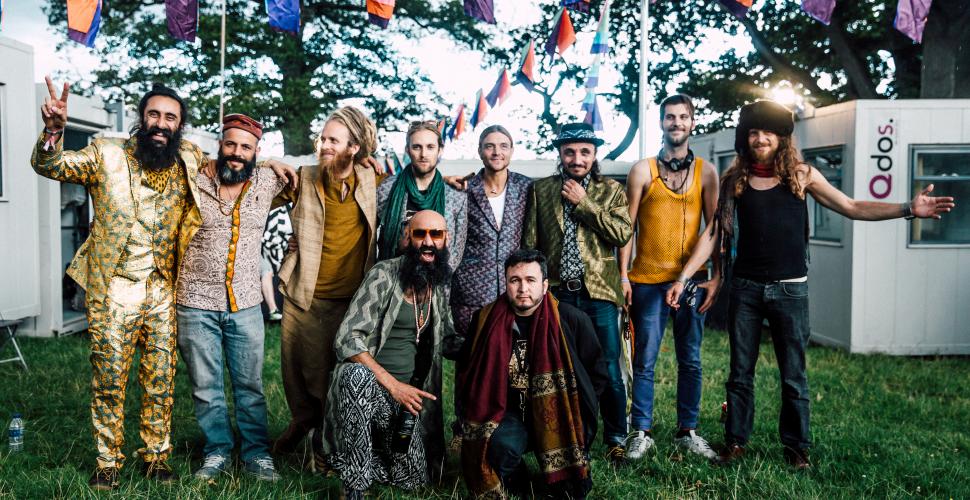 Saturday 19. November 2022
30TH ANNIVERSARY: The Turbans
"Every single person in this band has such a strong fire inside of them," says founding member Oshan Mahony of the Turbans.
"I know so many good musicians in this city, and even around the world, who play perfectly, but when they play, they don't release the passion of the music. Everyone in this band has so much Fire."
Mahony founded the group together with violinist Darius Luke Thompson, when the two met in Kathmandu. The two half-Iranian, half-British nomads immediately hit it off. They began busking throughout India, picking up musicians along their journey.

Some years later The Turbans have released their first self-entitled album "The Turbans" made by the seven musicians with origins from countries such as Turkey, Bulgaria, Israel, Iran, Greece and England.
Kurdish percussionist Cabbar Baba called The Turbans "music from manywhere" as they perform music in a high-energy blend of Balkan, klezmer, Gypsy, and sundry other styles.

Their interstellar live show has an ability to ignite the crowd. Sonically huge and visually arresting, they are a powerhouse of talent, bringing their vibrant and unique sound to audiences who can do nothing more than smile, dance and shout for joy.
"The Turbans are a stomping ensemble that sound like Eastern Europe swinging the Middle East around by the arm in the middle of a raucous party." – Songlines.
 "The Turbans' whirlwind album is similar to taking a trip around the world in 80 days." 7.5/10 Rhythm Passport
Jerry Boys is the master mixer of the album. "He likes a raw sound with real energy" says Mahony of Boys, who kicked off his career at Abbey Road Studios and worked on records by the Beatles, The Rolling Stones and Pink Floyd.
The song "Riders" is about nomadic life — the band spends half the year in Goa, the other half in the UK — as well as "being taken away by music." "The upbeat song "Hackney" honors London's most diverse borough, which every band member has lived in and serves as an important musical hub in the UK. The song was highlighted by The Guardian in their review:
"The Turbans are a British-based fusion band whose "music from manywhere" switches from the Balkans to the Middle East and from flamenco to North Africa. The best track on their self-titled debut is a cheerful love song to Hackney." - The Guardian
 
Line-up:
Oshan Mahony - rythmic guitar
Maxim Shchedrovitzki - electric oud
Miroslav Morski - electric guitar
Oliver Dover - clarinet & saxophone
Pablo Dominguez - cajon & percussion
Cabbar Baba - darbouka & percussion
Al Maranca - bass guitar