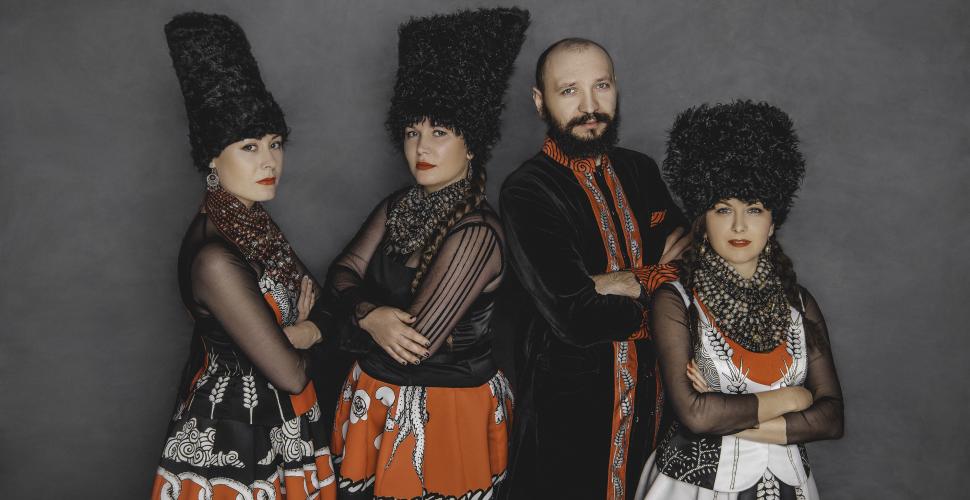 Saturday 19. February 2022
Line-up:
Marko Halanevych - vocals, darbuka, tabla, accordion, trombone

Iryna Kovalenko - vocals, bass drums, accordion, percussion, bugay, zgaleyka

Olena Tsibulska - vocals, bass drums, percussion, garmoshka

Nina Garenetska - vocals, cello, bass drum


 
Pounding drums, cello murmurs, crimson beads and lambswool hats are all characteristics of the Ukrainian, self-proclaimed "ethno-chaos", Dakha Brakha. The group is closely associated with its home country, but is also a cult phenomenon among the international audience.

For the past 20 years, this award-winning theater quartet of multiinstrumentalist-singers has experimented with, amongst others, Ukrainian folk tunes and rhythms combined with elements from African, Arabic, Bulgarian and Hungarian styles. All in all, their music is mixed together by authentic ethnic material. Dakha Brakha makes wild and unforgettable music, which is both solemn and modern at the same time. And where does the inspiration come from, you might ask? Dhaka Brakha travels around to different villages, visits local babushkas, and asks to hear their folk songs. This is how the group's unique and aggressive soundscape is created - a sound that involves both ritualistic tribal rhythms, but also extraordinary vocals.

Their extensive charisma is at the roots - Dakha Brakha was founded in 2004 by Vladyslav Troitskiy who is the director of avant-garde theater Dakh, an influence that is evident in the band's performances. Dakh Theater is known throughout Europe as one of the leading production houses of avant-garde theatre, and Dhaka Brakha is their own house band. It was in this context that the group had its first performance in Norway, when they together with Dakh Theater opened the Oslo World Festival in 2011. Never since have they visited Norway, and we are therefore delighted to welcome them to Cosmopolite February 19th 2022!