Trondheim Voices + Asle Karstad: Rooms & Rituals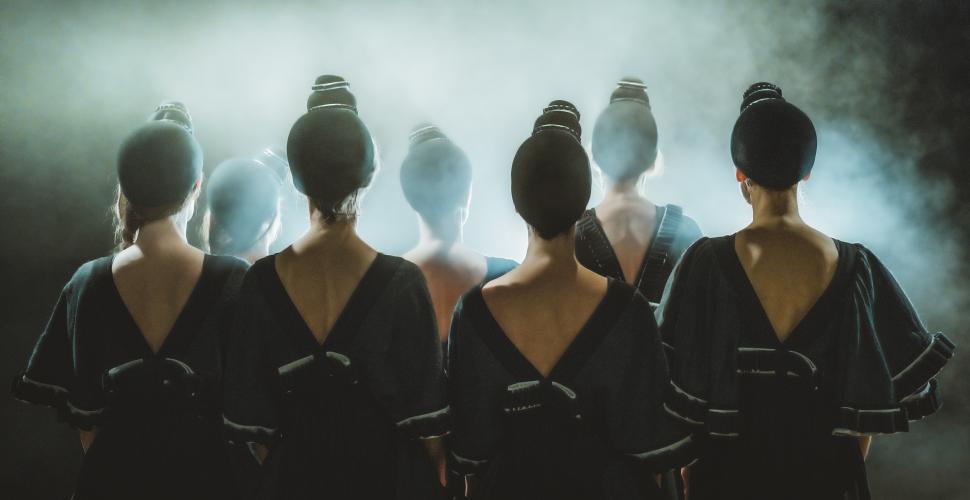 Trondheim Voices + Asle Karstad
Trondheim Voices + Asle Karstad: Rooms & Rituals
Trondheim Voices has received fantastic reviews for its Rooms & Rituals. "A hurricane of creativity", as one French critic puts it. A musical sensory experience based on advanced sound technology, human voice splendor and artistic performances at a sky-high level.
In recent years, Trondheim Voices has set new standards for what a vocal ensemble can be. In collaboration with innovative composers, with the use of new technology, and through a number of interdisciplinary projects, the ensemble has been a pioneer in the development of collective vocal improvisation, and continues to take the genre to new places. Trondheim Voices improvises through sound, movement, space and time, and has also developed a unique ability to collectively shape and color composed music.
Trondheim Voices and Norway's leading sound designer Asle Karstad have had a long-term close and fruitful collaboration. With his deep knowledge of the ensemble and its individual performers, Karstad has designed and tailored the wireless effect controller "Maccatroll" for Trondheim Voices; small boxes that are carried on the body and allow the singers to manipulate their voices electronically and wirelessly. landscapes, beautiful melodies and abstract soundscapes are improvised in the moment, intuitively and as if the singers were a common breathing organism, Karstad puts the finishing touches on the momentary music, and creates a space in the room through his surround mix.
In Rooms & Rituals it is not sung from a stage, but in a common experience room, where the audience and Trondheim Voices gather, as in a timeless ritual.
With the live album "Rooms & Rituals" (2018), Trondheim Voices has manifested itself as one of the world's most exciting improvising
vocal ensembles:
-The triumph of true originality. Terje Mosnes
-This is art. Auralaggravation, GB
- A hurricane of creativity. A real rough diamond.. Chromatique, FR
- A phenomenal recording.. a curious delicacy for the ears. Toneshift, USA
- Evocative, original, spectacular, graceful, surprising and inventive. Jazzconvention, IT
- Originality, innovation and creativity.. an extraordinary album. Skjazz, Slovakia
- Dramatic, theatrical, daring. Musikkultur, DE
- A triumphant release. Adverseeffectmagazine, PL
- A triumph of subtle, wiry, crystalline tones set forth with precision and assurance. Thesoundprojector.com
- High level vocal art. Morgenbladet
The renowned British critic and music writer Richard Williams, describes Trondheim Voices + Asle Karstad:
"These voices are like no choir you ever heard. They can form pale clouds of sound, or pools of glowing light, or bright shafts of pure sound. Phrases can soar before suddenly reversing direction and travelling backwards, but along a different tangent. Rising from the luminous sound beds — sometimes lush, sometimes austere – float a disembodied melody from an ancient world, an overheard conversation, a whisper from the past, the rumblings of a distant storm, the babble of children, or something that sounds like the ambient chatter of an asteroid belt. The individual strands cluster, entwine, swell, and then disperse, perhaps to leave a single voice exposed in all its natural beauty before others return to take up its cues and head off in a new direction. For both the singers and their audience, this is music in a constant state of discovery."
Voices and Maccatrols:
Live Maria Roggen
Tone Åse
Torunn Sævik
Heidi Skjerve
Kari Eskild Havenstrøm
Sound design: