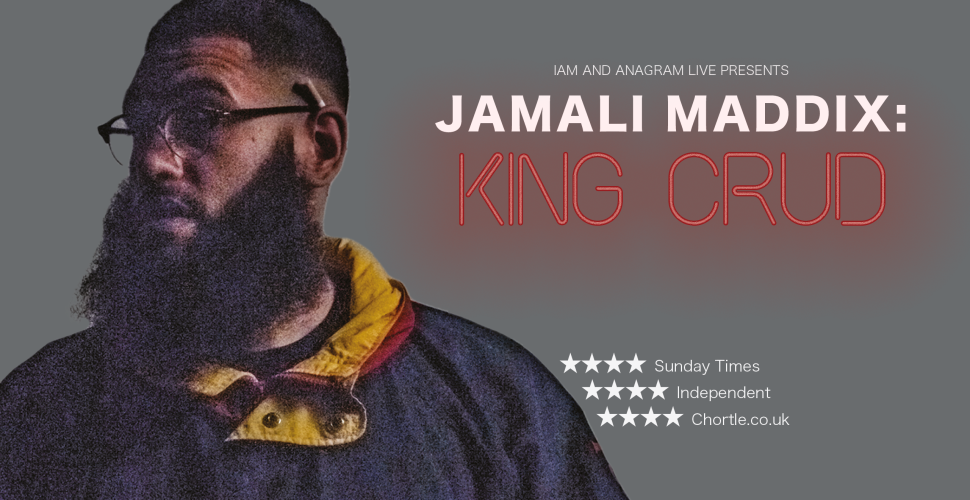 Jamali Maddix is the critically acclaimed comedian, whose unique voice and style make him one of the most sought after comedians in the UK today.
His natural confidence and charm allow him to tread gracefully across more sensitive topics leaving many of his contemporaries behind. His last tour sold out across the globe, playing in the UK, Europe, Asia, Australia and North America. Among other things, he has appeared on "Live at the Apollo", "The late night show with James Cordon" and was probably the most anarchist participant ever in the BBC's Taskmaster.
Jamali has been described as an amazingly funny and original talent. His debut performance 'Chickens Come Home to Roost' at the Edinburgh Fringe in 2016 sold out and was a critical success. In 2019 he made a praised appearance at the Lund Comedy Festival and now we're extremely happy to get to welcome him back to Scandinavia.
With a new show from 2022, KING CRUD, Jamali will be tackling more issues of morality and justice as well as Jamali's own personal growth and experiential learnings. A master of the craft, this latest show is not to be missed.
Language: English
Duration: 60-70 min