St .Paul & The Broken Bones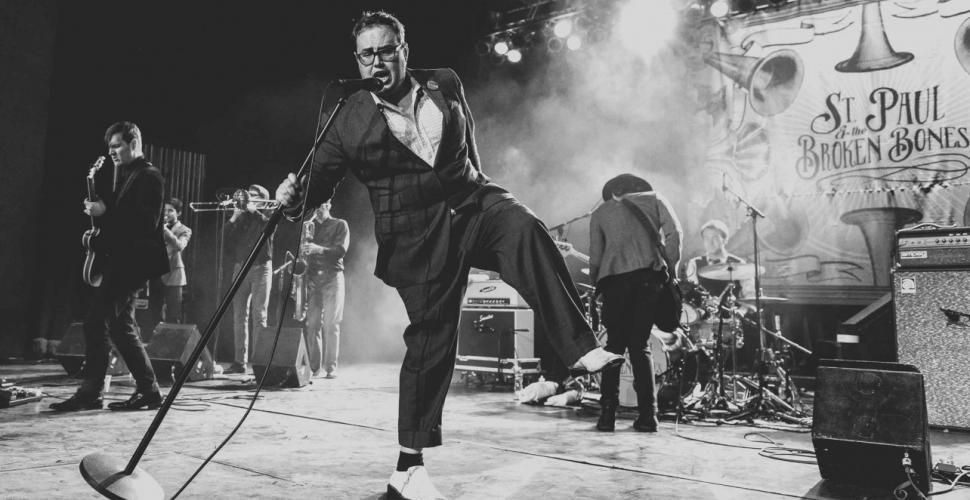 Thursday 19. January 2017
St .Paul & The Broken Bones
Det hotteste soulband for tiden fra Alabama, rett på Europaturne med nytt album, for første gang i Oslo!
St .Paul & The Broken Bones holder på å legge Amerika og Europa under sine føtter med et forrykende liveshow, flere og flere av deres konserter blir utsolgt ettersom ryktet sprer seg.
Som så mange legendariske soulsangere gjennom tidene, har også vokalist Paul Janeway startet sin karriere i kirken og gospel musikk. Men etter en kort karriere i et Led Zeppelin cover band, hvor han blir kjent med bassist Jesse Philips og de blir gode venner, begynner ting å skje.
Jesse og Paul begynner å skrive en del låter sammen; "Sugar Dyed," "Broken Bones and Pocket Change," and "That Glow," som alle er å høre på debut albumet "Half The City".
De samlet så sammen musikere fra Alabamas rike musikkscene, dannet band og spilte inn 10 låter, hvor alle seks medlemmene har bidratt.
Nå er de på turne over hele USA, men tar også turen innom Europa i 2017 og Oslo for første gang. Kommer med ny albumet «Sea of Noise» utgitt på Seasick Records.
Sjekk dem på SoundCloud
Lineup:
Paul Janeway: Lead Vocals
Browan Lollar: Guitars, Vocals
Andrew Lee: Drums, Percussion
Jesse Phillips: Bass
Allen Branstetter: Trumpet
Ben Griner: Trombone, Tuba
Al Gamble: Organ, Piano
Sjekk deres hjemmeside