Trondheim Voices + Asle Karstad: Rooms & Rituals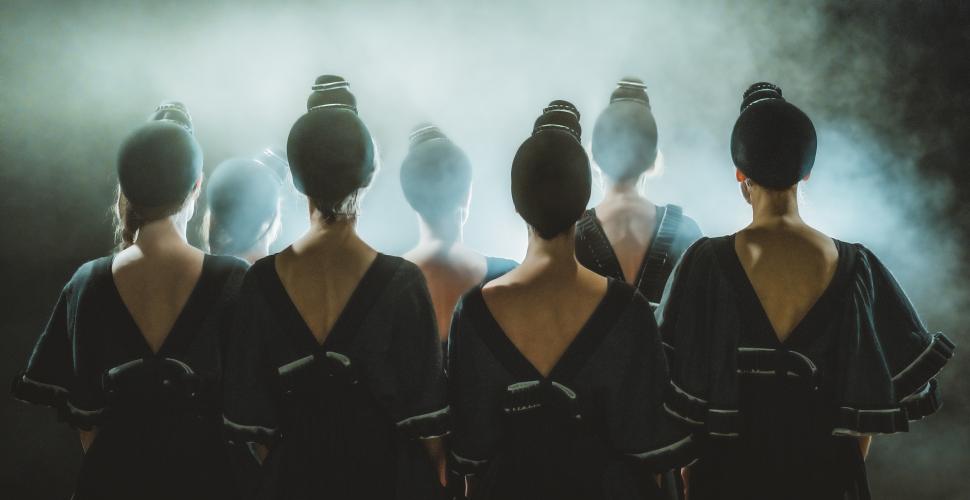 Trondheim Voices + Asle Karstad
Trondheim Voices + Asle Karstad:
Rooms & Rituals
Trondheim Voices har fått fantastisk kritikk for sin Rooms & Rituals. «En orkan av kreativitet», som en fransk kritiker uttrykker seg. En musikalsk sanseopplevelse basert på avansert lydteknologi, menneskelig stemmeprakt og kunstneriske prestasjoner på skyhøyt nivå.
Trondheim Voices har gjennom de siste årene satt nye standarder for hva et vokalensemble kan være. I samarbeid med nyskapende komponister, med bruk av ny teknologi, og gjennom en rekke tverrkunstneriske prosjekter, har ensemblet vært banebrytende for utviklingen av kollektiv vokal-improvisasjon, og fortsetter å føre sjangeren til nye steder.  Trondheim Voices improviserer gjennom lyd, bevegelse, rom og tid, og har også utviklet en unik evne til kollektivt å forme og farge komponert musikk.
Trondheim Voices og Norges ledende lyddesigner Asle Karstad har hatt et langvarig tett og fruktbart samarbeid. Med sin dype kunnskap om ensemblet og dets enkeltutøvere, har Karstad designet og skreddersydd den trådløse effektkontrolleren «Maccatroll" til Trondheim Voices; små bokser som bæres på kroppen og lar sangerne manipulere stemmene sine elektronisk og trådløst. All lyd kommer fra stemmene, og storslåtte ambiente landskaper, vakre melodier og abstrakte lydbilder improviseres fram i øyeblikket, intuitivt og som om sangerne var en felles pustende organisme. Karstad legger siste hånd på øyeblikksmusikken, og skaper et rom i rommet gjennom sin surround mix.
I Rooms & Rituals synges det ikke fra en scene, men i et felles opplevelsesrom, hvor publikum og Trondheim Voices samles, som i et tidløst rituale.
Med live-albumet "Rooms & Rituals" (2018), har Trondheim Voices manifestert seg som et av verdens mest spennende improviserende
vokalensembler:
-Den ekte originalitetens triumf. Terje Mosnes -This is art. Auralaggravation, GB -A hurricane of creativity. A real rough diamond.. Chromatique, FR -A phenomenal recording.. a curious delicacy for the ears. Toneshift, USA -Evocative, original, spectacular, graceful, surprising and inventive.
Jazzconvention, IT - Originality, innovation and creativity.. an extraordinary album. Skjazz, Slovakia -Dramatic, theatrical, daring.
Musikkultur, DE
-A triumphant release. Adverseeffectmagazine, PL -a triumph of subtle, wiry, crystalline tones set forth with precision and assurance. Thesoundprojector.com -Vokalkunst på høyt nivå. Morgenbladet
Den anerkjente britiske kritiker og musikkskribent Richard Williams, beskriver Trondheim Voices + Asle Karstad:
"These voices are like no choir you ever heard. They can form pale clouds of sound, or pools of glowing light, or bright shafts of pure sound. Phrases can soar before suddenly reversing direction and travelling backwards, but along a different tangent. Rising from the luminous sound beds — sometimes lush, sometimes austere – float a disembodied melody from an ancient world, an overheard conversation, a whisper from the past, the rumblings of a distant storm, the babble of children, or something that sounds like the ambient chatter of an asteroid belt. The individual strands cluster, entwine, swell, and then disperse, perhaps to leave a single voice exposed in all its natural beauty before others return to take up its cues and head off in a new direction. For both the singers and their audience, this is music in a constant state of discovery."
Stemmer og Maccatrols:
Live Maria Roggen

Tone Åse

Torunn Sævik

Heidi Skjerve

Kari Eskild Havenstrøm
Lyd-design: