Grenseløs Folkemusikk! Gabriel Fliflet og Jorun Marie Kvernberg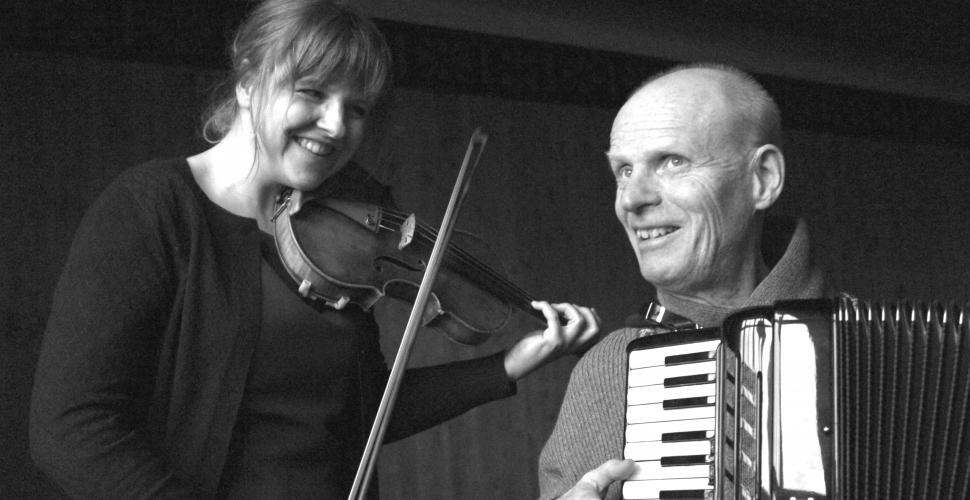 Thursday 22. October 2020
Grenseløs Folkemusikk! Gabriel Fliflet og Jorun Marie Kvernberg
Please note: KROKE unfortunately does not get to Norway due to Covid 19. Grenseløs folkmeusikk replaces. Purchased tickets are valid for a concert with a new artist. For a refund use the form here
This concert is a part of Polske Filmdager (Polish Film Festival), the largest Polish art festival in Norway.
"There is a difference between musicians, and professional musicians. Gabriel Fliflet and Jorun Kvernberg have it all. They master their art to the fullest. They convey the music to the audience with smiles and eye contact. They show such an exaggerated joy in playing that you as an audience are completely seduced. " (Avisa Herøyfjerdingen, 17/3 2015)
Since Kroke had to be replaced, it is very nice to be able to present the duo Jorun Marie Kvernberg and Gabriel Fliflet. With Norwegian and ethnic tones on fiddles, harding fiddles, accordion, piano and vocals, they charm, move and impress a wide audience.
Gabriel Fliflet is a colorful musician and music maker with accordion as his main instrument and with a long career in a number of different forms of folk music. He was named Folk Musician of the Year in 2011. Jorun Marie Kvernberg plays fiddle, harding fiddle and harp, and is one of the country's best folk musicians. She has won the Spellemann Prize twice and is the only one to have won the honorable "Edvard Prize" for composing in the genre of folk music.
Gabriel and Jorun Marie overflow with joy of playing - both when the music peaks in high-voltage power discharges and when it flows quietly and poetically. They follow each other closely, both with subtle smiles and wide grins! When the time is right, they break out in song.
You will hear delightful folk tunes that have withstood the passage of time, but most of all new music made by the musicians themselves. Jorun Marie Kvernberg's music is characterized by her upbringing centrally in the fiddler community in Romsdal. Here are airy shows with room for melancholy and unexpected turns. Here are fiddle tunes with a lot of resin and many happy snaps. Gabriel Fliflet's music is melodic, but with its own tonal character; you can track tones and rhythms from both Greece and Hardanger, Finnish forests and North Sea coasts.
As part of the Norwegian folk music trio Tindra, Jorun Marie collaborated with the Polish super trio Kroke back in 2011. This resulted in several concerts together, and a live CD. As an organizer, Gabriel has had Kroke visit Bergen several times. The audience should not disregard the duo offering a musical Kroke salute during the concert!
in collaboration with: 
Republikken Polens ambassade i Oslo
Main sponsor: