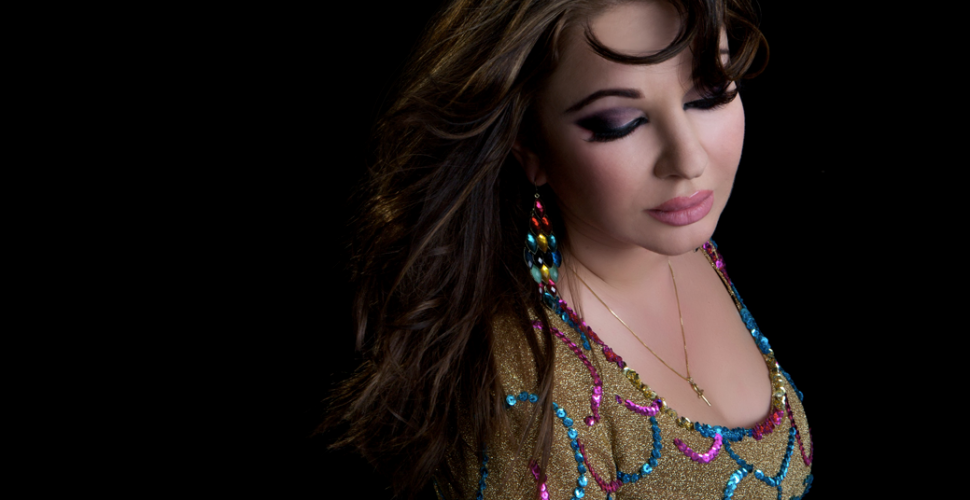 Wednesday 30. October 2019
En stor stemme, som har beveget seg fra dub og hip hop til akustiske eksperimenter.
Fra tidlig på nittitallet var Natacha Atlas med på å prege en ny, distinkt sammensmelting av elektronisk musikk og tradisjonsmusikk fra ulike verdenshjørner i den britiske musikkscenen. Hun markerte seg først gjennom samarbeidet sitt med bassisten Jah Wobble, før hun ble vokalist i det sagnomsuste og sentrale bandet Transglobal Underground, som hun sang i på de første fire platene. Bandet opplevde både gjennomslag og en slags kultstatus, med sitt særegne globale sjangerbrygg. Den virtuose sangstemmen til Natacha Atlas kom til sin rett her og det gjorde også hennes talent som magedanserinne, et av svært mange distinkte kjennetegn ved deres spektakulære liveopptredner.
I Transglobal Underground la hun også grunnlaget for en solokarriere hvor hun har deltatt i utallige samarbeid, med alt fra slaviske folkemusikere og Jean Michel Jarre, til Belinda Carlisle og Peter Gabriel. Hun har preget soundtracks på utallige filmer og fått en hit i Frankrike med sin versjon av Françoise Hardy-låta "Mon amie la rose", for å nevne noen høydepunkter. I tillegg har Atlas også vært en søkende artist på sine egne album, hvor veien i det siste har ledet henne frem til et landskap der arabisk sang og akustisk jazz kombineres. Albumet Myriad Road kom i 2015 og viste hvor uanstrengt og elegant musiserende en slik kombinasjon kan være. Nå har hun et nytt album på trappene, som befinner seg i det samme landskapet. Det kommer ut 20. september på Whirlwind Records og heter Strange Days. Albumet er spilt inn i Frankrike og Brasil. Nok en påminner om hvordan Natacha Atlas, født i Belgia, med aner i Storbritannia og Egypt og gjennomslag hos publikum over hele kloden, er en artist hvor begrepet "verdensmusiker" ikke nødvendigvis fremstår som å sette henne i bås - men som en passende hedersbetegnelse på en artist som nettopp har vist veien ut av båsene i tre tiår.
A huge voice moves from dub and hip hop to acoustic experiments.
From the start of the nineties on, Natacha Atlas was part of a new, distinct fusion of electronic and traditional music from all over the world in the British underground scene. She collaborated with the bass player Jah Wobble, and became the lead singer in Transglobal Underground, where she sang on their four first records. The band enjoyed both commercial success and cult status, with their idiosyncratic global brew of genres. Her virtuoso singing shone in this context. As did her talents as a belly dancer, which became one of the defining features of their wild live shows.
In Transglobal Underground, the groundwork was laid for a solo career where she has participated in countless collaborations, with everything from slavic folk musicians and Jean Michel Jarre to Belinda Carlisle and Peter Gabriel. She has contributed to several film soundtracks and she has had a hit in France with her version of the Françoise Hardy song "Mon amie la rose". Atlas has also continued her search for new sounds on a string of solo albums. The most recent have led her to a landscape where Arabic song and acoustic jazz coexist. The album Myriad Road was released in 2015 and showed how elegant this combination can sound. She continues the experiments on her new album, called Strange Ways, out September 20th on Whirlwind Records. It is recorded in France and Brazil - another reminder of how Atlas, born in Belgium, with family from Britain and Egypt and listeners from all around the globe, is an artist where the term "world musician" is not necessarily reductive, but rather an apt description of an artist who has crossed boundaries for decades.