Liniker e os Caramelows (Brasil)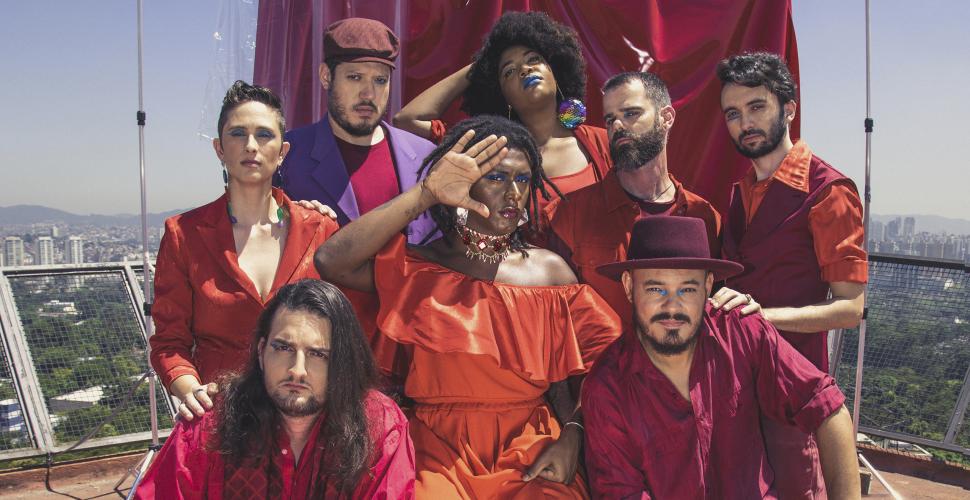 Thursday 31. October 2019
Liniker e os Caramelows (Brasil)
En grensesprengende artist pleier Brasils sjel
Soularven fra Brasil og USA pustes til live i det brasilianske bandet Liniker e os Caramelows, frontet av vokalist Liniker Barros, som på kort tid har blitt en av Brasils mest sentrale og bemerkelsesverdige artister. Liniker slo igjennom på hjemmebane da hun og bandet la ut en fremføring av låta "Zero" på youtube. Den ble en svær hit, det samme ble debut-EPen Cru i 2015. I 2016 kom albumet Remonta, som førte til over hundre konserter, blant annet på festivaler som SXSW, Womad og Primavera. Andrealbumet, Goela Abaixo, kom ut i år. Det er en etterlengtet affære som ble utviklet på veien i løpet av de siste to årene. Her møter lytteren et sound som ligger hakket nærmere opplevelsen av å støte på det store bandet i en konsertsetting. Det er, for å bruke Linikers egne ord, "et sound som får puste og danse, samtidig som det er en følelse av hvor hver låt er på vei".
Goela Abaixo er et stort album, fylt til randen av produksjonsdetaljer og markante grep. I likhet med andre, vidtfavnende og ambisiøse album fra soul/rnb-landskapet nå for tiden finnes det også en utforskning av identitet og individuell utfoldelse i denne musikken. Liniker Barros ble flasket opp på Brasils rike soulmusikkarv, i tillegg en artist som Whitney Houston, som sang på et uforferdet, hemningsløst vis som Liniker tok til hjertet. Hun stod frem som transkvinne rundt samme tid som hun blomstret som artist av internasjonalt format. "Det er en stor forskjell på det jeg opplever og det ukjente transpersoner opplever. Derfor sier jeg alltid at vi er nødt til å holde sammen, uansett. Hvis vi ikke gjør det, kommer vi sikkert til å bli slettet fra historiebøkene", har hun sagt til magasinet Paper. Enn så lenge er det en svært dyster spådom hun kommer med. Men der Liniker kommer fra, er det nærmere å være en realitet enn noe annet sted. Hun er fra Araraquara, en by i delstaten São Paulo, et forholdsvis rikt og konservativt område av Brasil. Forholdene for transpersoner er kritiske i landet. Organisasjonen Transgender Europe har samlet tall for drap på transpersoner mellom 2008 og 2016 - der er Brasil på topp med 868 registrerte tilfeller, med Mexico på en andreplass med 257. Også denne dypt alvorlige situasjonen er med på å danne bakteppet til det Liniker skaper - musikk som forøvrig gir håp om at en annen, mer romslig virkelighet er mulig - enten det er i hverdagen hjemlandet Brasil eller det er på dansegulv verden over.
A groundbreaking artist soothing the brazilian soulVintage Brazilian and American soul lives on in the sound of Liniker e os Caramelows, spearheaded by singer Liniker Barros. In short time, she has become a central artist in the Brazilian music scene. Liniker broke through when she and a group of musicians soon to be named Caramelows published a performance of the single "Zero" on youtube. The song was a huge hit, same with the debut EP Cru in 2015. In 2016 they released the album Remonta, chich led to numerous concert bookings, on festivals like SXSW, Womad and Primavera, to mention a few. Their second album, Goela Abaixo, came out this year. The highly anticipated album was written on the road during the last two years. Here, the listener is greeted by a sound which lies closer to the concert live experience of the band. In Liniker's own words, "It's a sound made to breathe, to dance largely while feeling where each track leads to".
Still, Goela Abaixo is a huge album, filled to the brim with production details and interesting choices. Like a lot of other sprawling, ambitious albums from contemporary soul/rnb-artists, it investigates different identities and individuality through it's music. Liniker Barros listened a lot to Brazils rich soul music tradition in her childhood. She also idolized Whitney Houston - the unrestrained way the late american singer performed her material. Around the time Barros broke through internationally, she also came out as a trans woman. "It is a privilege to be a singer who has some notoriety. There's a huge difference between what I experience and what anonymous trans people live through. That's why I always say that we have to stick together no matter what. If we don't do that, we are surely going to be erased by history", she told the magazine Paper. It is a bleak prediction, but considering where Liniker comes from, it rings true. She was born in Araraquara, a city in the province São Paulo. It is a pretty prosperous and conservative area of Brazil - a land where conditions for trans people are at a critical stage. The NGO Transgender Europe has recorded instances where trans people have been killed between 2008 and 2016. Brazil tops the list with 868 registered cases, with Mexico on a distant second place with 257. This deeply tragic situation is also the backdrop of Linikers artistical breakthrough. She and her band makes music which brings hope that a different, more tolerant reality is possible - whether you're talking about Brazilian daily life or dance floors and concert halls all around the world.