Marja Mortensson, Daniel Herskedal & Trondheimsolistene (Norge)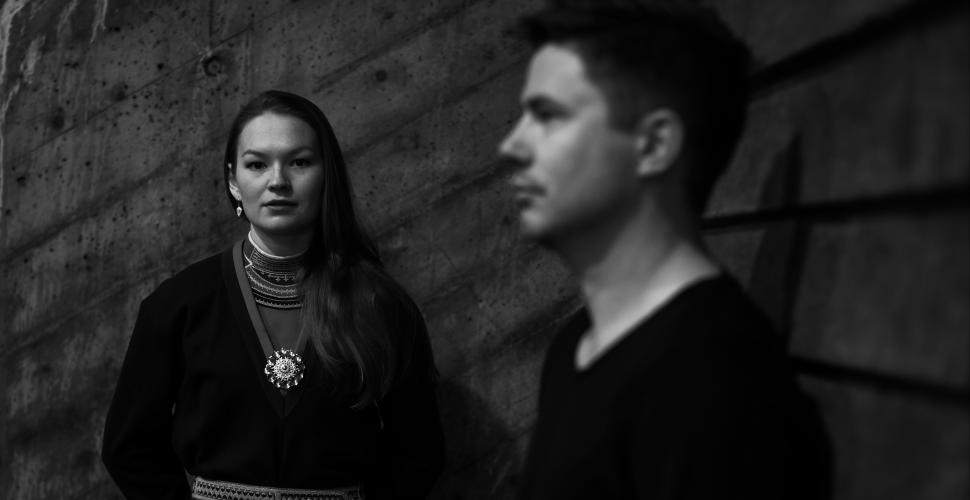 Wednesday 30. October 2019
Marja Mortensson, Daniel Herskedal & Trondheimsolistene (Norge)
En enestående sanger vekker sørsamisk joik til live
Få artister de siste årene har tatt musikkinteresserte norske lyttere på senga på samme måte som den sørsamiske joikeren Marja Mortensson har gjort. Musikken er et originalt møte med den sørsamiske musikktradisjonen som både byr på noe nytt og ambisiøst, men også gjenkjennelig. I tillegg er Mortensson er en av de mest oppsiktsvekkende norske vokalistene som har entret scenen på en god stund. Nå kommer hun, medkomponist Daniel Herskedal og Trondheimsolistene til Oslo World med nyskrevet sørsamisk musikk som kretser rundt balansegangen mellom å gå sin egen vei og å vende tilbake til røttene sine.
Hun kommer fra Engerdal i Østerdalen, nordøst i Hedmark, det sørligste punktet i den sørsamiske geografien. Mortensson vokste opp i en familie som har drevet med reindrift og som tar vare på de samiske tradisjonene. Dermed lærte hun seg også språket sørsamisk av moren sin, et språk som i dag snakkes av rundt 500 mennesker i verden. Karrieren har etter hvert skutt fart - i 2014 fikk hun tittelen "Årets unge kunstner" under Riddu Riddu-festivalen, hun har hatt den i norsk sammenheng unike prosjektstillingen som fylkesjoiker i Troms - og i år vant hun Spellemannprisen for 2018 for debutalbumet Mojhtestasse – Cultural Heirlooms, hvor hun joiker på sør- og umesamisk. Det siste kom ikke som en overraskelse. Marja Mortensssons første album vakte oppsikt, et stilsikkert og lekent verk som kretser rundt Mortenssons særpregede stemme og originale komposisjoner.
Tubaist og komponist Daniel Herskedal, som blant annet har markert seg med bestillingsverk for BBC Concert Orchestra og filmmusikk for Brad Pitts Plan B Entertainment, jobbet sammen med Mortenson på Mojhtestasse. Nå har de komponert ny musikk som spenner fra duoformat til forseggjorte stykerarrangementer, svevende mellom kunstmusikken og tradisjonen. De vil fremføre musikken på Oslo World og Cosmopolite med Trondheimsolistene, et av Norges mest toneangivende og aktive strykerensembler gjennom 30 år. Det blir en mulighet til å oppleve stemmekunsten hennes i enda en ny, givende kontekst.
_____________________________________
A stellar new singer breathes life into the South Sami tradition
Few artists have surprised Norwegian music listeners in the same way as the joik artist Marja Mortensson. Her music represents an original take on the South Sami tradition,fresh and ambitious, but also familiar. She is also one of the most interesting singers to emerge on the Norwegian scene in a while. Together with co-composer Daniel Herskedal and Trondheimsolistene, she will visit Oslo World with new works that center around the balance between choosing one's own path in life at the same time as belonging to a tradition.
Mortensson comes from Engerdal in Østerdalen, the southernmost part of the South Sami area. She grew up in a family who has herded reindeer and preserved the Sami traditions. Her mother taught her the language, which is spoken by approximately 500 people today. The last few years, Mortensson's career has skyrocketed and in 2014, the Riddu Riddu festival named her "Young artist of the year". This year she won a Spellemann, the Norwegian Grammy equivalent, for her debut album Mojhtestasse – Cultural Heirlooms. The award didn't really come as a big surprise - Mortensson's first album made many people take notice - it was a confident and playful piece of music, fueled by Mortenssons unique voice and a handful of creative compositions.
Tuba player and composer Daniel Herskedal, who has composed commissioned works for BBC Concert Orchestra and Brad Pitts Plan B Entertainment, was Mortenssons collaborator on Mojhtestasse. Now, they have composed new music, spanning from the duo format to elaborate string arrangements, existing somewhere in between contemporary music and joik. They will perform these new works at Cosmopolite during Oslo World, together with Trondheimsolistene, one of Norway's most active and accomplished string ensembles the last 30 years. It will be a chance to experience this emerging young star in yet another new context.