Jubileumsfestival: Abraham Inc. feat. David Krakauer, Fred Wesley & Socalled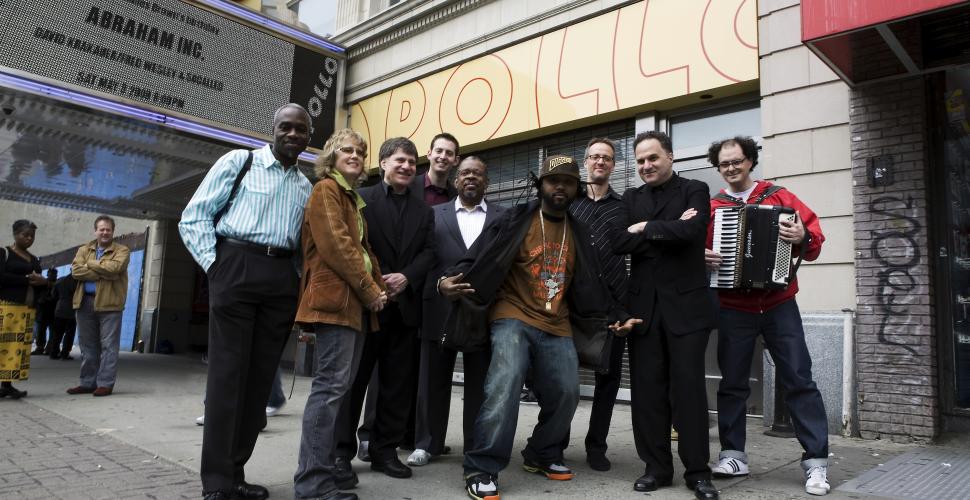 Jubileumsfestival:
Abraham Inc. feat. David Krakauer, Fred Wesley & Socalled
Det blir en festaften uten like når funk og hip hop møter klezmer under denne storslotte jubileumskonserten!
"This endlessly surprising yet highly successful hybrid of klezmer, funk and hip-hop had the enthusiastic crowd - young and old, Jews and gentiles, whites and blacks - dancing ecstatically in the aisles like it was a Jewish wedding."
Denne begeistrede omtalen er fra JazzTimes. Ellers har ti mann sterke Abraham Inc. fått strålende anmeldelser i alt fra The New York Amsterdam News til Playboy Magazine. I orkesteret finner vi blant annet musikerne Frank Wesley, David Krakauer og SoCalled, som her har funnet sammen i et fruktbart, funky og forbløffende samarbeid.
Lineup:
David Krakauer - clarinets/vocal
Fred Wesley - trombone
SOCALLED - sampler, accordion, piano
Taron Benson - rapper
Gary Winters - trumpet
Brandon Wright - tenor sax
Sheryl Bailey - guitar
Allen Watsky - guitar
Jerome Harris - bass guitar
Michael Sarin - drums
Fred Wesley er en amerikansk funk- og jazz-trombonist, som du blant annet kan høre på klassiske låter som "Say It Loud, I'm Black And Proud". Han spilte med legendariske James Brown på 60- og 70-tallet, og var også lederen av The Horny Horns, som gjerne spilte på platene til George Clinton, Bootsy Collins, Parliament og Funkadelic. Du kan også høre dem på plater med bl.a. Dee-Lite og Red Hot Chili Peppers, samtidig som Wesley også har vært medlem av Count Basie Orchestra.
David Krakauer er på sin side en av verdens ledende klezmer-musikere. New York-klarinettisten var nylig med på et album med det norske progbandet White Willow, og spiller både klassisk musikk, avantgarde og improvisasjonsmusikk. Han regnes også som en drivende god jazzutøver. SoCalled er på sin side en kanadisk rapper, musiker og produsent, som har vakt oppsikt ved å blande hip hop, klezmer, dansemusikk og folketoner.
Denne blandingen av talentfulle musikere inviterer til an all-out klezmer-funk-dance party. Vi tipper at stemningen raskt står i taket, når de går på scenen på Cosmopolite den 17. november. Den fulle besetningen er David Krakauer (klarinett, vokal), Fred Wesley (trombone), SoCalled (sampler, trekkspill, piano), Taron Benson (rapper), Freddie Hendrix (trompet), Brandon Wright (tenorsax), Sheryl Bailey (gitar), Allen Watsky (giitar), Jerome Harris (bass) og Michael Sarin (trommer).
Vi tror vi tør love en festaften av de store!