St .Paul & The Broken Bones + support: The Americans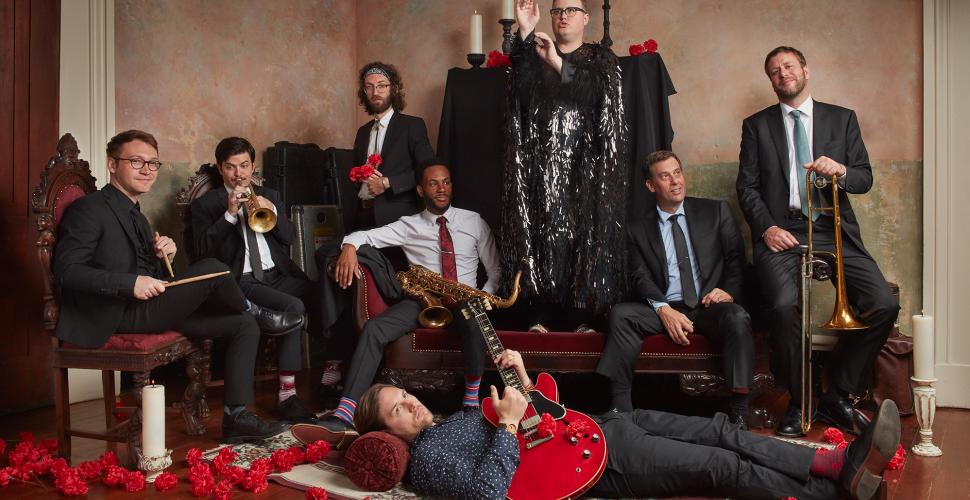 Saturday 10. November 2018
St .Paul & The Broken Bones + support:
The Americans
Det hotteste soulbandet kommer tilbake for å løfte taket på Soria Moria og det med ny plate!
19.30 - Dører åpner
20.00 - Support: The Americans
21.15 - St.Paul and The Broken Bones
07.09.18 Slapp de sitt nye album "Young Sick Camellia" lytt her!
St .Paul & The Broken Bones har lagt Amerika og Europa under sine føtter med et forrykende liveshow, og ryktet ble bekreftet her på Torshov i 2017.
Som så mange legendariske soulsangere gjennom tidene, har også vokalist Paul Janeway startet sin karriere i kirken og gospel musikk. Men etter en kort karriere i et Led Zeppelin cover band, hvor han blir kjent med bassist Jesse Philips og de blir gode venner, begynner ting å skje.
Jesse og Paul begynner å skrive en del låter sammen; "Sugar Dyed," "Broken Bones and Pocket Change," and "That Glow," som alle er å høre på debut albumet "Half The City".
De samlet så sammen musikere fra Alabamas rike musikkscene, dannet band og spilte inn 10 låter, hvor alle seks medlemmene har bidratt.
Sjekk dem på SoundCloud
Lineup:
Paul Janeway: Lead Vocals
Browan Lollar: Guitars, Vocals
Andrew Lee: Drums, Percussion
Jesse Phillips: Bass
Allen Branstetter: Trumpet
Jason Mingledorff: Saxophone, Flute
Chad Fisher: Trombone
Al Gamble: Organ, Piano
Sjekk deres hjemmeside