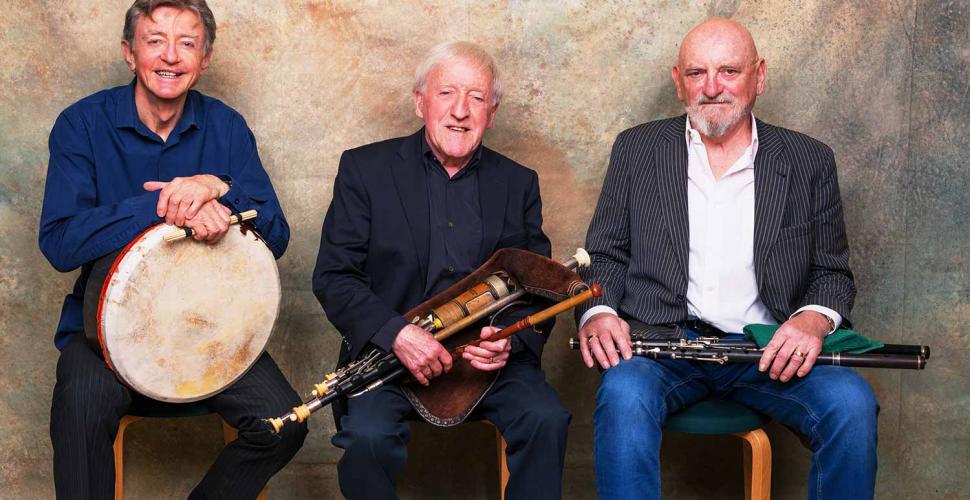 Den 6 ganger Grammy-vinnende irske musikkgruppen kommer endelig til Oslo!
Endelig har vi fått det legendariske 9 manns ensemble til Oslo og Cosmopolite:
Paddy Moloney – uilleann pipes and tin whistle
Matt Molloy – flute
Kevin Conneff – Bodhran / vocals
Jonathan Pilatzke – fiddle/dance
Triona Marshall – harp/keyboard
Tara Breen – fiddle/sax
Tim Edey – guitar/accordion
Alyth McCormack - vocals
Nathan Pilatzke – dance
6 ganger Grammy-vinnende The Chieftains er en Irsk folkemusikkgruppe som ble etablert tidlig på 1960-tallet, og platedebuterte i 1964. Det tok ikke lang tid før de vokste seg til å bli en av de fremste og mest populære representantene for irsk musikk, både hjemme og i utlandet. Deres unike evne til å overskride grenser for å blande tradisjonell og moderne musikk, har bidratt til å gjøre dem til en av de mest ærverdige og kjente musikkgruppene den dag i dag.
Ved siden av å spille tradisjonell folkemusikk har gruppen ofte samarbeidet med musikere fra andre miljøer, både klassisk, country og rock. De spilte med Van Morrison på albumet Irish Heartbeat (1988), og på The Long Black Veil (1995) medvirket av blant andre The Rolling Stones, Sting, Ry Cooder og Mark Knopfler. Bandet har også laget musikk for TV og film, og bidro blant annet musikalsk til filmen Barry Lyndon (1976).
The Chieftains spilte i 1979 for 1.3 millioner publikummere under Paven sitt besøk til Irland, og under Dronning Elisabeth ll sitt historiske besøk i 2011. I fobindelse med deres 50-åresjubileum I 2012 ble de belønnet med National Concert Hall Lifetime Achievement Award begrunnet med "in recognition of their tremendous contribution to the music industry worldwide and the promotion of the best of Irish culture."
Vi ser rem til å invitere nok en legendarisk irsk musikkgruppe til Cosmopolite, og med seg har de Pipe band, kor og dansere!
Pipe Band: Oslo Caledonian Pipe Band
Choir: Mná Singers, Norway
Dancers: Sound-Irish Dance Factory