The Bulgarian Voices Angelite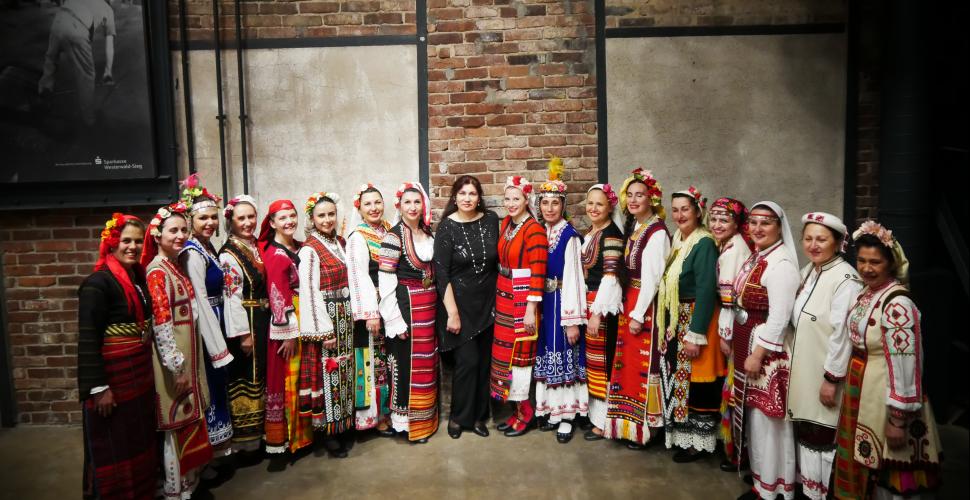 Sunday 25. September 2022
The Bulgarian Voices Angelite
The strong, but still fragile-sounding female voices of the folklore choir The Bulgarian Voices Angelite fascinates with its ornaments and archaic sound which is rooted in a century long tradition.

"Angelite are fantastic singers, living instruments in fact!" – World Music
Twenty-one singers make up this powerful choir which goes back to 1987 and has since then published 13 albums and performed at the Nobel peace prize ceremony, the red square in Moscow, the Vatican and for royal families around the world.
Folklore of ancient times becomes renewed when performed in the strong emotional energy of the choir. The symbiosis of the genres avant-garde and the medieval creates songs that touches the soul.

One listener might think of archaic sound-worlds from far-distant times, another of the marriage of avant-garde and the medieval.

The remarkable Bulgarian professor of music and composer Ivan Spassov (deceased 1996) wrote one of his last songs specifically for The Bulgarian Voices Angelite. Spassov uses in his composition's aleatory technique with overlapped polyphonic patterns. Creatively developed, from the roots of the traditional song "Leilinko, kuzum pilianze" springs a creatively developed musical work with free, irregular harmony and soft sonority. The music reveals the philosophy of the author relating to the universe and eternity.
The Bulgarian voices Angelite has a unique execution of floating between consonant and dissonant tones and completely vibrato-free vocal technique, which created an enigmatic effect, in the west called "mysterious".
"Angelite is an amazing example of vocal virtuosity" Scotsman, Edinburgh , UK

"A mysterious marvel" Toronto Star, US

"The most beautiful music on the planet" St. Louis Post Dispatch, US

Line-up:

The Bulgarian Voices Angelite 
Conductor: Katja Barulova
Impressaria: Tanja Andreeva